PRESS RELEASE
Tennessee Emergency Communications Board awards contract to Mission Critical Partners for continued support of statewide Next Generation 911 initiative
---
The firm will provide consulting expertise pertaining to infrastructure deployment
STATE COLLEGE, Pa. — Mission Critical Partners (MCP) announced that the Tennessee Emergency Communications Board (TECB) recently awarded the firm a five-year contract to continue its support of the initiative to deliver Next Generation 911 (NG911) service statewide.
MCP has supported TECB's NG911 implementation since 2013. NG911 is comprised of local and regional emergency services Internet Protocol networks (ESInets), which enable the delivery of 911 calls into each of the 100 emergency communications districts (ECDs) across the state. As part of this project, MCP will provide ongoing assistance regarding next-generation core services (NGCS), geographic information system (GIS) integration, and specialized training to assist the 134 emergency communications centers (ECCs) that exist across the state with the NG911 migration.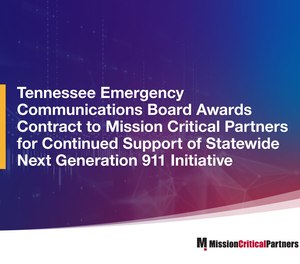 "TECB has had a long and fruitful relationship with MCP, not only in advancing NG911 in Tennessee but also in improving the cybersecurity posture of our 911 centers," said Curtis Sutton, TECB executive director. "We're looking forward to more of the same as we work together to bring this vitally important service to every citizen in the state."
NG911 systems represent a tremendous leap forward in terms of emergency response. First, such systems locate emergency callers via geospatial routing that leverages GIS-generated data, which is more timely and accurate than the databases used by legacy 911 systems. Second, NG911 systems generate more data than legacy 911 systems, enhancing situational awareness and enabling emergency responders to do their jobs more effectively and safely.
"We're honored by the confidence that TECB has shown in our subject-matter experts and their work, as evidenced by this ongoing partnership," said Darrin Reilly, MCP's president and chief executive officer. "More importantly, we're grateful for the opportunity to continue our support of this extremely important initiative."
About Mission Critical Partners (MCP)
Mission Critical Partners (MCP) is a leading provider of data-integration, consulting, network, and cybersecurity solutions specializing in transforming mission-critical communications networks into integrated ecosystems that improve outcomes in the public safety, justice, healthcare, transportation, and utility markets. Our comprehensive experience and vendor-agnostic approach helps us develop modernized solutions for our clients to maximize value and create optimal efficiency while mitigating risk. Additional information and career opportunities are available at www.MissionCriticalPartners.com.

Request more info from Mission Critical Partners
Thank You!