Automate shift bidding to increase productivity, transparency and morale (white paper)
Download the free white paper to learn how to establish a more fair and equitable shift bidding process to save time and improve employee engagement
---
Sponsored by Kronos
Employee scheduling is a challenge for any organization, especially public safety agencies, which must balance 24/7/365 demands with union rules, labor compliance guidelines, common workplace practices and employee safety and fatigue concerns. Manual processes are slow, labor-intensive and non-transparent, and they leave too much room for error.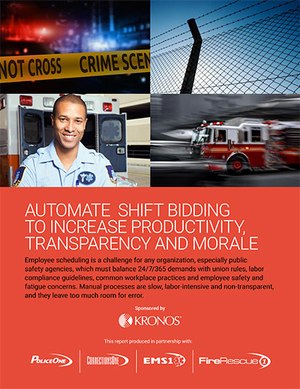 Nowhere is this more true than shift bidding, the process where employees bid to set their regular schedules and shifts, bid for overtime opportunities or special events and request the vacation/paid time off days they want based on their seniority and date preferences.
Read the white paper to learn:
Why impartial shift bidding matters to your agency and your employees.
The consequences of perceived favoritism in the public safety workforce.
The risks of old-fashioned, manual shift bidding processes.
How automated shift bidding can solve these problems.
How three public safety agencies saved time and money by adopting an automated shift bidding solution.