PRESS RELEASE
Adams County Ambulance & EMS (IL) Announces Switch to Aladtec: Improves Efficiency and Helps Them Meet Labor Agreement Obligations
---
This web-based software system streamlines staff scheduling, automates processes, stores data, runs reports and integrates with payroll

February 27, 2015 - Quincy, IL - Many organizations, particularly in public safety and health care, have various regulations, licensing and monitoring they must document, retain and submit.  Keeping track of these requirements with a paper trail and filing system is antiquated, time consuming and leaves plenty of room for error.  Many organizations are making the switch to Aladtec's online software system to drastically improve the way they deal with employee scheduling and administrative processes.
"Previously, we used a paper system consisting of mapping and publishing the schedule on spreadsheets and posting them on large wall-hung blotters at a central location.  The system was not dynamic and nearly unmanageable by management unless a static presence was maintained," explains  J. Paul Davis, Chief of EMS, Adams County Ambulance & EMS, Quincy, Illinois. 
"If you needed time-off, you simply drew a square around your name and hoped somebody was available to work your shift. This often led to high overtime costs, shifts not being filled properly, and union grievances," shares EMS Captain Kyle Dixon.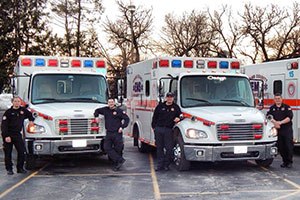 Since moving scheduling and admin tasks to Aladtec, this agency has consolidated and automated processes.  They have taken full advantage of the various features within the system. "With Aladtec we have versatility with mobile and desktop access, it serves as a repository for many departmental documents and policies - as well as drastically improving the way we handle scheduling our staff," states Davis. "Aladtec's tech support set our system up so that we are sure to meet our obligations regarding our labor agreement."
Adams County Ambulance & EMS uses their Aladtec system for a number of things:
•    As a centralized location for employee data management - such as certifications and contact information
•    The event calendar to post training sessions and  public education/relation events
•    Storing and sharing department documents in the library section
•    Using the Forms feature to create and submit department forms to track vehicle maintenance, inventory, uniform requests, etc.
•    Sending messages to multiple people at once - for urgent call backs, severe weather alerts and other notifications
"Both administrators and employees use the mobile app frequently.  I use it to monitor the schedule and events calendar, send messages and access employee contact information.  I know our staff appreciates having the mobile flexibility and the system's overall ease of use," adds Davis. 
About Adams County Ambulance:  Their staff of 60 is committed to their Mission - which is to serve their community of over 70,000 people and maintain high standards in pre-hospital care and provide cost-effective, quality patient care by well skilled, proficient paramedics and EMTs.
About Aladtec: They proudly provide online employee scheduling and workforce management software to over 1,300 organizations, primarily within the Public Safety Sector. These customers count on Aladtec every day to help them save time and improve efficiency.  For information about their affordable industry specific options, or to try a free trial, please visit www.aladtec.com.