PRESS RELEASE
Aladtec Attends Wisconsin EMS Association's Working Together Conference This Week
---
Milwaukee, WI - The Wisconsin EMS Association's annual Working Together Emergency Services Midwest Conference & Expo takes place this week, January 28 - 31, at the Wisconsin Center, Downtown, Milwaukee.  Over 2,000 participants are expected - making it one of the largest EMS events in the United States.  There'll be over 50 topics available at various sessions and the event will feature approximately 125 vendor booths in the Expo Hall.
One vendor at the Expo (booth #823), is Wisconsin based Aladtec, Inc.  Aladtec is an online employee scheduling and workforce management software system. The core of their business is within the Public Safety Sector, and the majority of their customers are EMS agencies.
Aladtec's online system improves agency efficiency, saves time, saves money and reduces human error. These factors are vital for Public Safety Agencies.  Aladtec is available for an affordable annual fee based on the number of members using the system.  Therefore, it is reasonably priced for organizations of all sizes - which is particularly appreciated by agencies with limited budgets.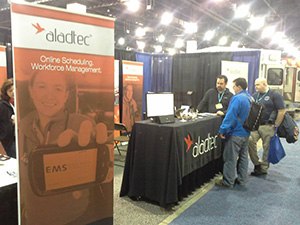 Aladtec's first online system, was developed in 2002 for the Ellsworth Ambulance Service in Wisconsin.  When it was created, the vast majority of EMS agencies didn't even have Internet service and they still scheduled staff on a paper calendar, spreadsheet or whiteboard.  Fast forward, and today over 1,300 organizations subscribe to Aladtec's online employee scheduling and workforce management software with over 80,000 people using the system throughout North America.  
"We are proud to be based in Wisconsin, and very fortunate and honored to be a vendor for the first responder community," states David Feyereisen, CEO, Aladtec, Inc., Hudson, WI.  "Our products automate the mundane and error prone aspects of crew scheduling and workforce management, allowing our customers to focus on their priority - the communities they serve."
The Aladtec system allows members to submit availability, request time off and make shift trades. The system has evolved from only an online crew scheduling system to an all-in-one workforce management tool.  It features certification tracking, customizable forms, a document library, member forum, events calendar, custom reports and an optional Time Clock kiosk.
While at the 2015 WEMSA Working Together Conference and Expo, Aladtec, Inc. hopes to connect with many of their Wisconsin Public Safety customers. They will also offer guided demos of their Aladtec online employee scheduling and workforce management system along with signing agencies up for a free trial offer.
Supporting Quotes:  
"I'm overseeing the day-to-day operations for seven stations. We have 19 ambulances, and almost 100 employees, so being able to only have to designate 5-6 hours of my time a month on the schedule, versus the 30 that were spent in the past gives me a lot of time I didn't have before to concentrate on our staff, our rigs, our stations, and the operation overall."  -Rob Lulling, Director of Operations, Ryan Brothers Ambulance, Madison, WI
"After using Aladtec for three years, we've found it's become a very important "member" of our department. And it's very affordable; the yearly subscription is paid for after
only one or two calls."  -Kim Eby, Chief, St. Croix EMS & Rescue, Hudson, WI
"Prior to using Aladtec, I spent a LOT of time dealing with trade requests from members. Now they take care of their own trades. It's also very easy to check the schedule from anywhere. We'll never go back to paper scheduling."  -Dale Dow, Deputy Chief, Fitch Rona Fire and EMS, Fitchburg/Verona, WI
"Our Aladtec system has greatly reduced the number of hours that used to be spent making calls and filling shifts." -Jim Baldauf, District Director/Training Director, Cambridge EMS, Cambridge, WI
About Aladtec: They proudly provide online employee scheduling and workforce management software to over 1,300 organizations, primarily within the Public Safety Sector. These customers count on Aladtec every day to help them save time and improve efficiency.  For information about their affordable industry specific options, or to try a free trial, please visit www.aladtec.com.