PRESS RELEASE
Aladtec, First Arriving announce an integration
---
Visual displays boost responders' "situational awareness," save command staff time.
RIVER FALLS, Wis. — Fire and EMS agencies using Aladtec Scheduling and Workforce Management software and First Arriving Digital Dashboards can now save time and provide first responders with vivid, big-screen displays for the station that integrate information from both platforms.
Medics at Putnam County Operation Life, Greencastle, IN, use the integration get a real-time view of schedules for four shifts, upcoming events, current weather conditions, and more. Screens are installed at the watch desk, training room, and outside the bunkroom door, said Deputy Director of Operations, Joe Carnagua.
"The crews enjoy the overall product as it gives them information right away. I can easily update the board from my phone if I'm not on station to relay important information such as hospital diversions.
 "The schedule portion from Aladtec updates real time so the next time the schedule page is displayed, it shows what changes I've made. They enjoy the weather portion as it gives them situational awareness and sets us forward advancing our agency further into the 21st century," said Carnagua in an e-mail exchange.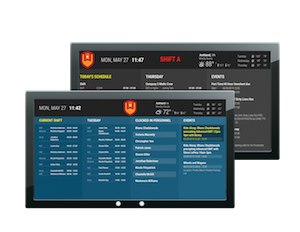 Fire and EMS agencies use Aladtec to streamline schedule processes, including complex rotations, trades, sign-ups, and time off, and when the schedule changes as a result, with this new integration, Aladtec will seamlessly update in First Arriving's display technology. Aladtec, a cloud-based online system, is available 24/7/365 from any computer or mobile device via the internet.
The integration enables First Arriving Dashboards to dynamically display vital information from the Aladtec system on large-screen monitors in a station. First Arriving also offers some 30 other integrations, including weather, call alerts with directions and mapping, and other content.
Capt. Jason Kirsch with Chaska (MN) Fire said his agency's screens continuously scroll through slides showing Aladtec shifts for the upcoming three days -- including position, staff assignments and times. They also display upcoming events, current and three-day weather forecasts with NWS watches and warnings and a live weather map. They show content like apparatus status and notes, road closures and construction updates, station duties, and department news.
When Chaska Fire -- which protects some 30,000 residents of their Minneapolis-St. Paul suburb -- gets a call for service, Active 911 takes over the display and shows the call information, address, map with driving directions, map with hydrant locations and a Google Street view of the address.
Chaska has one display installed in the locker bay and another in the dispatch office. Others are being added soon in the main office and training room, said Kirsch.
"It gives our members the information they need at a glance.  It can be updated from any computer, and the automatic population of data from Aladtec and Active 911 reduces staff time for updating a dry erase board or printed schedules," he said.
Laurel (MD) Volunteer Rescue Squad, 22 miles southwest of Baltimore, uses the Aladtec-First Arriving integration on a panel in the watch office to display schedules for the upcoming three days.  Member Naomi Bonnin said the display has helped spur increased compliance with assigned duties. 
"The efficiency improvements with this new integration are substantial," said Dave Feyereisen, president and founder of Aladtec Inc. "Like First Arriving, Aladtec is dedicated to the concept of interoperability. We're currently developing Aladtec integrations with a wide spectrum of applications. First Arriving was one of our first successes."
"Aladtec connects first responders with software to streamline scheduling, time-off and shift-change requests, e-forms and more. This roster display integration is a powerful addition to our Dashboards, providing on-duty personnel the critical data they need to be ready to respond," First Arriving CEO Dave Iannone said.
About Aladtec
Aladtec provides online scheduling and workforce management software for mission-critical agencies such as EMS, fire service, law enforcement, and dispatch. The smart platform puts real-time staff scheduling, time, and attendance tools, in the palm of your hand. It tracks licensing and certifications, offers customizable forms and reporting, and allows leaders and members to communicate instantly, saving time and money. Founded in 2003, the River Falls, Wis. firm serves more than 2,250 customers across the US and Canada. Annual subscription includes all set-up, training, and unlimited support. To learn more, visit www.aladtec.com.
About First Arriving
First Arriving is the leading marketing and technology company powering success for fire/rescue departments and EMS agencies, plus industry businesses, associations, and nonprofits. Led by lifelong firefighters, First Arriving is your partner for tools, resources, and services needed to be a successful, dynamic organization. Our solutions include dashboards, websites, fundraising, recruitment marketing, member management, learning management, and more. Click here to learn more.

Request more info from First Arriving
Thank You!