PRESS RELEASE
Aladtec, Inc. Announces Recent Move of Headquarters to River Falls, WI
---
Relocation to larger office building consolidates two Wisconsin offices and accommodates the company's continued growth.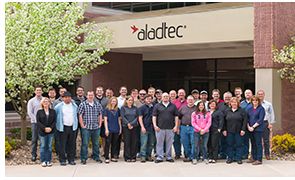 River Falls, Wisconsin - Privately held Aladtec, Inc. announces their move to 387 Arrow Court, River Falls, Wisconsin. After being located in Hudson, Wisconsin for nearly six years, with a satellite office in River Falls, the company chose a larger office space in order to be in one location and to have room for the company's future expansion plans. This move allows 30 of Aladtec's employees to work under one roof - while two staff members telecommute.

"We are grateful to Aladtec for their decision to expand in River Falls, Wisconsin," said William Rubin, Executive Director, St. Croix Economic Development Corporation, St. Croix County, Wisconsin. "Aladtec could have easily drifted across the border to Minnesota, but didn't. Aladtec has roots in River Falls, and as they continue to grow, I know they will find numerous local resources to stay on their upward track towards greater success."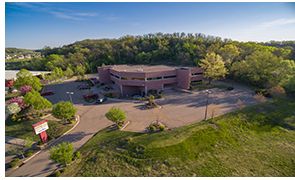 Scot E. Simpson, the River Falls City Administrator adds, "We are thrilled that Aladtec has located its headquarters in River Falls. We welcome Aladtec and its employees back and look forward to them as a continued corporate citizen for years to come. We appreciate their confidence in River Falls as a place to grow and thrive."

Aladtec is an online employee scheduling and workforce management company focusing on the Public Safety Sector. From their new River Falls office, the company continues to develop, market, sell and support their Aladtec online software application.

In 2015, with a three-year sales growth of 106%, Aladtec came in at number 3,197 on Inc.'s list of the nation's 5000 fastest-growing private companies. They have experienced tremendous growth since 2002 when an ambulance company from Ellsworth, Wisconsin asked for help to improve their staff scheduling process by moving it to the Internet. That basic scheduling system became the foundation for creating the company Aladtec, Inc. The Aladtec system is now an all-in-one robust workforce management tool for designed for EMS, fire/rescue, law enforcement, dispatch and healthcare agencies.

Always located in Western Wisconsin, the first version of the online software system was developed in the upstairs of CEO and Co-founder Dave Feyereisen's garage, he shares, "We've moved around a lot since we built the first version of our product back in 2002. For much of that time we were spread out between two or three different offices. It's great to get us all back into a single location where we have plenty of room to grow. Our first "real" office was in River Falls when there were only three of us in 2007. It's great to be back."

About Aladtec

The company provides online employee scheduling and workforce management software to more than 1,600 organizations. Over 100,000 employees depend on the Aladtec system and nearly half a billion hours have been scheduled through the software. Aladtec is honored to be a vendor for the Public Safety Sector and proud their online software system allows customers more time to focus on the communities they serve verses scheduling and workforce management processes. For information or to try a free system demo, please visit www.aladtec.com.