PRESS RELEASE
Aladtec to attend FRI (Fire-Rescue International) Conference & Expo
---
The premier event for thousands of the nation's most prominent fire and emergency service officers and leaders.
SAN ANTONIO — FRI, The IAFC (International Association of Fire Chiefs) annual conference and expo is August 17th through the 20th at the Henry B. Gonzalez Convention Center in San Antonio, Texas.
IAFC represents the world's leading experts in the first responder community and takes great pride in offering this important conference and expo. The annual event provides leadership education for fire chiefs, yet also provides officers and chief officers preparation for career advancement through the Officer Development Program. In addition, the conference offers high-impact training opportunities. Attendees are encouraged to connect with exhibitors, who offer public safety products and solutions, in the expo hall on August 19th and 20th.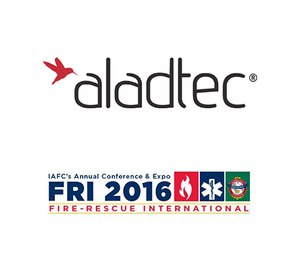 One solution driven exhibitor attending FRI, is Wisconsin based Aladtec (booth #18112). Aladtec is an efficient, and cost-effective, online employee scheduling and workforce management software system. The core of their business is within the Public Safety Sector; the majority of their customers are Fire and EMS agencies.
The Aladtec system easily handles the complex scheduling requirements common to Public Safety Agencies - particularly the various shift rotations found at fire departments. It has many key benefits - including allowing members to submit availability, request time off and make shift trades online from anywhere. Trade requests can be automated and allowed to occur with or without admin approval. Aladtec is available 24/7 from any computer, smartphone or other mobile device via the Internet. Over the past decade, the software system has evolved from a basic crew scheduling system to a popular all-in-one robust workforce management tool. It features a member database, certification/licensing tracking, customizable forms, a document library, member discussion area, custom reports and an optional Time Clock kiosk (with or without a biometric fingerprint scanner). Any report can be created from the data you have in the system and it integrates smoothly with most payroll systems. With Aladtec, it's easy to maintain necessary compliance and regulatory documentation.
The online software system improves agency efficiency, saves time, saves money and reduces human error. These factors are vital for those in Public Safety. Aladtec is available for an annual fee based on the number of employees using the system. Therefore, it is reasonably priced for organizations of all sizes - including volunteer fire departments.
Today nearly 1,700 Public Safety agencies subscribe to Aladtec's online employee scheduling and workforce management software, with over 100,000 people using the system throughout North America. The subscription based system is available without signing a contract and implementation, training, customer support, and system updates are always free.
While at the 2016 FRI conference Aladtec staff will connect with many of their customers. A System Specialist will be on hand to answer any software questions customers may have, along with helping interested departments set up a free demo created specifically for their agency.
Supporting Quotes from Aladtec Customers:
"There are quite a few scheduling programs offered but Aladtec seemed to be the one that was most simple and user friendly and providing the best tools. We tried the free trial and immediately saw the advantages of the online schedule, customizable forms, and various reporting capability."
Susan Cabot, Secretary, Austintown Township Fire Department, Youngstown, Ohio
"Aladtec is far exceeding our expectations. We are using the 'Events' calendar extensively, and we manage certifications, licenses and other important dated materials through this system."
Clinton Crafton, Division Chief, Whitestown Fire Department, Whitestown, Indiana
"Tracking out trades, swaps of shifts, was the primary reason we recently subscribed to Aladtec. Tracking certifications with Aladtec will be a big help also."
Martin Greene, CFO EMT-P, Fire Chief, Bourne Fire & Rescue, Buzzards Bay, Massachusetts
"We are an 85 percent volunteer fire department so the savings Aladtec offers us in terms of time and effort is very large. We average 50 volunteers, with nine paid staff and the ability for them to sign up for shifts online from their home, office or their smartphone is working great."
David Moore, Fire Chief, Winterville Fire-Rescue-EMS, Winterville, North Carolina
"We reduced scheduling time by at least 12 hours for each schedule and we cut our payroll processing time by approximately 100 hours every month because we are able to export the payroll data from our Aladtec system. Also, the accuracy of our payroll increased, since we weren't keying in the payroll data by hand anymore. Employees are much happier when they're getting paid the correct amount and bosses are happier when you're not overpaying people!"
Mike Majercik, Battalion Chief, McHenry Township Fire Protection District, Illinois
"Everything is running very nicely. Our staff has bought into the system and it has saved our captains significant time covering shifts."
Shane Christensen, Fire Chief, Leduc Fire Services, Leduc, Alberta, Canada
About Aladtec:
They proudly provide online employee scheduling and workforce management software to nearly 1,700 organizations, primarily within the Public Safety Sector. These customers count on Aladtec every day to help them save time and improve efficiency. For information about their affordable industry specific options, or to try a free demo, please visit www.aladtec.com.