PRESS RELEASE
Austintown Fire Department (OH) Announces Selection of Aladtec to Solve Workforce Management Challenges
---
Youngstown, OH - The Austintown Fire Department indicates they are always on the lookout for systems to help make their jobs easier and employee communication efforts more effective.  "Finding a workforce management system that's easy to use was our main focus. Our employee's ages range from 20 somethings to 50 somethings and that leaves a large difference in their level of computer education.  Aladtec is ideal because it's user friendly for all levels of computer capabilities," shares Susan Cabot, Secretary, Austintown Fire Department, Youngstown, Ohio.  "We tried the free trial and immediately saw the advantages of the system's online schedule, customizable forms, various reporting options and a number of other valuable features."  
Previously, this agency posted a large handwritten calendar on the bulletin board at each of their four fire stations and the firefighters would have to drive in to sign up for shifts. Not only was this inconvenient, but this routine didn't work well either.  The calendar at one station would have one thing and the calendar at another would have something else.  When changes were needed, one calendar might have the change, but the others likely would not.
"The old calendar method was almost impossible to keep up to date. Trade requests and people calling in sick were hand written notes created by the person at the front desk at the main station. We would constantly be changing the calendar at the main station based on the notes, yet the calendars at the other stations typically wouldn't be updated so they were never current," explains Cabot.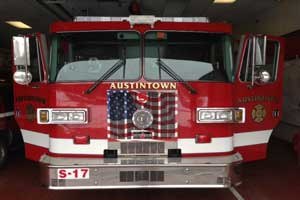 Because the Aladtec system is online, the schedule - and other data - is always up-to-date and any changes are instantaneous. "Aladtec provides all of our firefighters, as well as office personnel, the ability to see one schedule in one place - online - that has ALL of the necessary information on it. Now, our schedule and information is all available in REAL time eliminating any confusion as to whether it is current or not.  Plus, we can all access the information at any time and from anywhere we happen to be," indicates Cabot. "We save lots of frustration by using Aladtec."
According to Cabot, the 20 full-time and 32 volunteer firefighters have given her very positive feedback about how they like the Aladtec system. "All of our members appreciate that they are able to view the schedule at any time they desire using a computer, tablet or their smartphone. This eliminates the need for them to drive in or make a phone call to check something on the schedule."
With four stations, the convenience of having everything online and accessible 24/7 from anywhere is even more important. For example, Austintown Fire Department uses Aladtec's Form's feature to keep all their necessary forms online. By filling out, submitting, reviewing and storing department forms through Aladtec via the Internet they are eliminating the chance of important forms getting lost.  
"By using the Forms feature we can quickly access information we know is reliable. It eliminates paper expenses and it eliminates the chance that any given form will be misplaced. We have provided check boxes to ensure that the necessary individuals "check" that they have viewed and acknowledged the information on the form. This feature also provides a "one-stop-shop" to get a form when it's needed, without having to go to the station to pick one up or dig around to find the most current version of it. Any and all changes to a form, and all new forms, can be seen as soon as they are released. There isn't any wait or any need to make a stack of copies to be passed out before they can be used," Cabot explains.
Aladtec's commitment to free training and free technical support is appreciated by their customers. "Your customer support staff has been exceptional. We greatly appreciate the time and the effort they've given us. Still being beginners with the system, some of our questions may seem redundant, yet no question has gone unanswered, and no question was treated unkindly or thought of as silly," Cabot states.
About Austintown Fire Department
This Fire Department consists of four stations to proudly serve the residents of Austintown with fire & medical needs.  They are located in Northeast Ohio approximately 60 miles from Cleveland and Pittsburgh.