PRESS RELEASE
Cumberland Road Fire Dept. (NC) Implements Aladtec for Their Online Employee Scheduling Workforce Management Needs
---
This agency says Aladtec is ideal for scheduling their 39 fire personnel and keeping all department forms online.
Fayetteville, NC - Operating and scheduling staff for a fire department completely comprised of part-timers can be challenging.  They have other jobs and commitments which means their availability can vary greatly month to month.  There are always shift trades and shift giveaways to manage as well.  To counteract these challenges, many public safety agencies are turning to online employee scheduling and workforce management solutions from Aladtec.
"Using an Excel spreadsheet to schedule our fire personnel took a lot of blood, sweat and tears.  We spent too much time scheduling and trying to keep up with shift trades and other scheduling issues.  We explored a number of online options, however we found Aladtec fit our needs best.  And in rolling the system out, I must add that Aladtec's customer service by far exceeded my expectations," explains Steven Parrish, Assistant Fire Chief, Cumberland Road Fire Department, Fayetteville, N.C.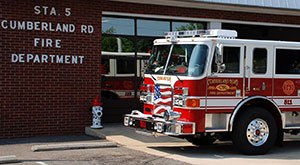 Parrish states the ease of producing the initial monthly schedule is what he most appreciates about their Aladtec system.  "The uniqueness of our department is that we only employ part-time employees. Aladtec fits perfectly because we allow our staff to submit their availability and then I'm able to build our schedule monthly," Parrish shares.  
He also indicates that the employees love the ease of sending out shift trade or giveaway notifications to quickly find someone to cover their shift if needed.  In turn, the responsibility doesn't fall on the administrator - and take up their time - to fill any given shift after the schedule has been created. 
This agency has found using Aladtec's Forms feature has had the greatest impact and provided a huge improvement on how their department operates.  "We have moved all our forms online.  We can now fill out, submit, review and store our Hose Inventory, Apparatus Work Orders, Equipment Work Orders, Fire Prevention Requests, Hydrant Repair Requests, Medical Supply Requests, SCBA Work Orders, and Shift Pass Along forms all within our Aladtec system online. The forms can be filled out and submitted from our smartphones or iPads," adds Parrish.
     
Aladtec's mobility offers the flexibility to perform scheduling and other processes from any computer, smartphone or mobile device through the Internet 24/7 from anywhere.  Parrish states, "I use the mobile app often, it gives me the ability to check work schedules and approve trades and address concerns while I'm away from a computer."
About Cumberland Road Fire Department:  Celebrating 60 years of service, they are committed to providing superior fire, rescue, and emergency services to the citizens of their community in a proficient, professional, and compassionate manner. This agency has both volunteer members and a 24 hour paid staff.  For more information visit: www.cumberlandroadfire.com.
 
About Aladtec: They proudly provide online employee scheduling and workforce management software to over 1,500 organizations, primarily within the Public Safety Sector. These customers count on Aladtec every day to help them save time and improve efficiency.  For information about their affordable industry specific options, or to try a free trial, please visit www.aladtec.com.