PRESS RELEASE
Have experience with Fire Department Software? Help shape the definitive guide to tech in the fire service.
---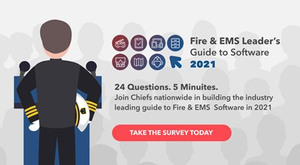 First Due is partnering with Fire Chiefs nationwide to help shape an all-encompassing guide software n the Fire Service built for 2021. All results and data will be collected anonymously.
The team at First Due is calling on leadership at agencies across North America to contribute their experiences and perspectives to the Fire & EMS Leader's Guide to Software 2021. "Our goal is to learn from chiefs and deliver an analysis of the challenges agencies are facing related to software" explains First Due Head of Marketing, Ron Kanter.

More about the Survey:
The survey can be completed in less than 5 minutes.
All results will be tabulated, and data will be released within the Fire & EMS Leader's Guide to Software 2021.
All survey submissions and results will be kept anonymous. Your information will not be shared with any third parties and always kept confidential.
Two weeks after survey completion participants will receive the first copies of the Fire & EMS Leader's Guide to Software 2021.
What Will Be in the 2021 Guide?
In-depth analysis of the status quo in Fire & EMS software.
A summary of anticipated technology adoption trends.
Insights into Command Staff software priorities, and the strengths and weaknesses of common technology environments.
To take the survey, please follow this link and get started.

Request more info from First Due
Thank You!