PRESS RELEASE
Switching to Aladtec Allows Woodstock Fire/Rescue (IL) to Save Time, Money & Trees!
---
Paper driven administration processes are prone to error, hard to track, expensive to create and distribute - and environmentally unfriendly - especially with four fire stations and 90 personnel.
Chicago, IL - Switching from scheduling staff on an Excel spreadsheet to Aladtec's online workforce management system, this fire/rescue department saves considerable time - which means money - while also making a positive impact on the environment.
"We save at least two to three hours everyday.  That adds up to between 60 and 90 hours a month!  Probably half of that time is saved by not having to fill overtime slots by calling, texting or emailing.  With Aladtec, we send out a shift availability notice and staff can pick-up the shift from wherever they are through the Internet. We can see when they last worked overtime, so we can quickly and easily choose who gets the OT shift," shares Lieutenant Chad Williams, Woodstock Fire/Rescue District, Woodstock, Illinois. "Now, we have almost gone completely paperless in our daily work...and, we are saving a lot of trees!"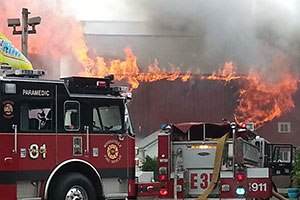 Aladtec is much more than just a scheduling system. As Lieutenant Williams can attest to, there are many advantages with Aladtec besides the convenience of online employee scheduling.  Williams points out that all their department admin processes have become more efficient.  Including their documentation needs...such as keeping track of time off, trades, overtime, etc.  "Previously, it took three or four pieces of paper, three emails, and we had to scan all our paperwork into the computer.  We like the fact that now our documentation just takes a couple of clicks and everything's recorded permanently to refer back to whenever we need to."
Another Aladtec feature that's been very helpful to Woodstock Fire/Rescue District is the Forms capability.  This feature allows users to create, customize, submit, review and store department forms within their Aladtec system.   
"We used to have a "common" drive that was filled with outdated forms and documents that took forever to find. Now with Aladtec, we are able to save paper and quickly query and track all our forms. We use our Aladtec system to do all our daily and weekly Rig Checks, Vehicle Work Orders, Uniform Requests and Training Requests.  We also submit our overtime hours to be approved and our fuel use through the Forms area as well - we can even do this on our smartphone or tablet," explains Williams. "The staff thinks the Forms feature is great. Especially the notification they get when something is submitted. For example, our mechanic is immediately notified on his cell phone when something is broken or taken OOS.  He then makes the determination of whether he needs to take action now or later."
A unique way this service is using Aladtec's information tracking capability is to monitor the progress of all their cadets. "The Lieutenant who runs the cadet program input all the cadet information into our Aladtec system. We run the cadets through a rotation of all the stations.  Prior to Aladtec, it was extremely hard to know exactly where they were in the program at all times.  We can now quickly check their progress when they get assigned to each station," shares Williams. "We also use the Tracking feature to keep track of certifications and licensing expiration dates."
Because Aladtec is accessible via the Internet, users can log-in to the system at anytime and from anywhere.  Williams states staff members like being able to request time off, look for trades, view the schedule and see which station they are assigned to from their smartphone or mobile device.  In summary, Lieutenant Williams adds, "The best part about Aladtec is - it's an all in one workforce management tool - we all love it!" 
About  Woodstock Fire/Rescue District:  
Located 50 miles northwest of Chicago in  Woodstock, Illinois this four station fire/rescue agency is responsible for providing service to a population of approximately 50,000 people over 80 square miles within McHenry County.  The 90 members of the department are proud to uphold the agency's motto - "Working with you to make Woodstock, Illinois a fire safe place." 
About Aladtec:
They proudly provide online employee scheduling and workforce management software to over 1,300 organizations, primarily within the Public Safety Sector. These customers count on Aladtec every day to help them save time and improve efficiency.  For information about their affordable industry specific options, or to try a free trial, please visit www.aladtec.com.