IAFC webinar Quick Take: COVID-19 and mental health
Presenters offered solutions to the complex situations brought on by the pandemic, including mental health concerns, operational organization and documentation
---
The global pandemic has forced fire departments and service members to adopt new policies, revise station workflow and traditions, and prepare for every call as if they will be confronted with COVID-19, while rationing PPE and ramping up decontamination procedures.  
In addition, many members are concerned about returning home to their families after a shift, for fear of unknowingly carrying the virus and infecting their loved ones.  
In an IAFC webinar, "Training and Documentation: Your health during COVID-19," sponsored by Envisage, presenters offered solutions to the complex situations brought on by the pandemic, including mental health concerns, operational organization and documentation.  
The panelists included Amy Morgan, MSC, founder and director of Academy Hour and a mental health expert specializing in public safety and first responders; Chief Clive Savacool of South Lake Tahoe (California) Fire Rescue; and Shawn Anderson, solution strategist with Envisage Technologies.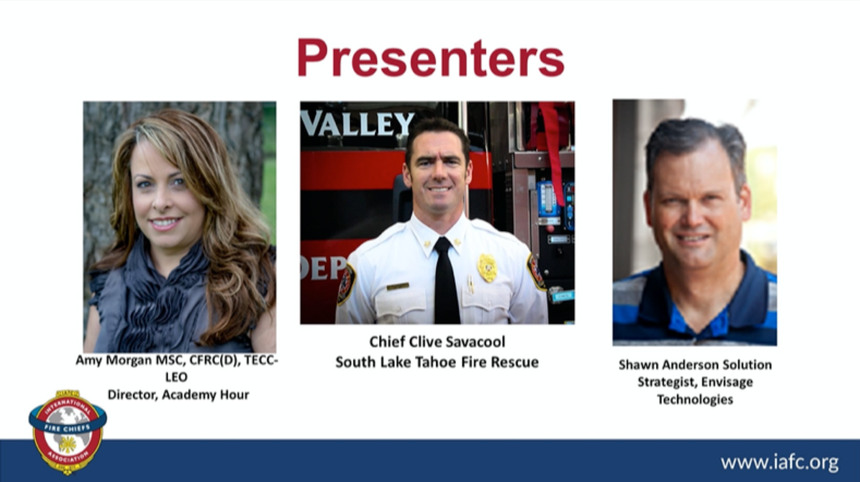 Memorable quotes on tracking COVID-19 and mental health concerns 
"Tracking what you've been exposed to, or may have been exposed to, is critical." – Chief Savacool 
"Standardization of exposure tracking builds structure and order into what is already a chaotic situation; we don't need to add chaos by trying to figure out what not to document." – Amy Morgan 
"[Standardization of exposure tracking] removes the subjective viewpoint of whether someone may or may not choose to decide something is important enough to report it or not, all of it just is, and then it's not left up to each individual." – Amy Morgan 
"When we know what we're supposed to do, and what expectations are, it takes away a level of worry and of uncertainty and fear." – Amy Morgan 
"Crisis exposes weaknesses." – Chief Savacool 
Top takeaways on exposure tracking, documentation and mental health 
The panelists described several situations in the fire service that benefit from using exposure tracking to alleviate documentation and mental health concerns.  
1. Firefighter culture. Clavacool points out that, traditionally, firefighter culture has not been overly cautious, and the pandemic has forced changes to the fire service that have been an adjustment. 
Interaction between firefighters – Enforce social distancing with each other, other agencies, hospital staff 

Maintain relationships – Despite social distance requirements, it's important to continue to foster camaraderie and support 

Predetermined reliance – Every level of support, aside from the physical, is even more important during the pandemic 
2. No silver bullet for safety. Savacool and Morgan point out that there is nothing that is 100% fool-proof when it comes to avoiding infection from the virus. Combining best practices, exposure tracking and adhering to guidelines from national health organizations will provide the most cover. 
Follow CDC guidelines 

Utilize proper PPE 

Maintain social distancing when possible 

Quarantine first responders who've been exposed 

Create a separate location for exposed first responders to wait out quarantine (Air BnBs, empty college dorms, hotel rooms) 
Remember the small details (using "Happy birthday" song when washing hands) matter 

Track all data 
3. Burnout as a result of a reduction in workforce due to: 
Exposed staff members in quarantine 

Family members of firefighters that need to be cared for 
Long hours, high stress, increased fear of unknown due to possible virus exposure 
This causes additional stress and long hours for crews and can increase mental health needs. 
By using data-tracking technology, such as forecasting, fire leadership can have a full picture of what their members are certified in, be able to move them around to different stations as you have need and as staff members require time off, Anderson said.  
Off-time may not offer reprieve due to stay-at-home, shelter-in-place orders.  
Find creative reprieves to enjoy with family members 
Maintain physical fitness routines as much as possible 

Counterbalance stress with as many positive moments, activities as possible 
Avoid turning to coping mechanisms that numb or distract:  
"The things that you see are things we are not designed to see as human beings, and you see them regularly," Morgan said.  
Watch for signs of depression, anger, irritability and take note.  
Additional COVID-19, mental health and documentation resources 
Learn more about how to navigate the pandemic preparation, response and documentation with these articles:  
View the IAFC's library of COVID-19 resources here.  
Note: This webinar is separate from the IAFC's weekly update from its COVID-19 Task Force, located here. 

Request product info from top Fire Data Management companies
Thank You!