PRESS RELEASE
Continuum introduced as new active data monitoring solution
---
LAKEVILLE, Minn. — ImageTrend, Inc. announced the arrival of Continuum™ -the solution for active data monitoring and automated delivery of information. Organizations using Continuum can realize immediate awareness with real-time updates uponposting information.Subscribers will be able to select what is monitored, when the information is received and how it will be viewed.
Active data and information is delivered via alerts or summaries to channels such as SMS/text, emailor application dashboards basedon the feeds the user selects. Factors such as rules, thresholds or time influence the trigger for delivery.
"With Continuum, your data becomes delivered information allowing you the wisdom to make more informed decisions to impact operations and patient care. With no reports to build, Continuum will beeasy for organizations to adopt," commented Joe Graw, Vice President of Client Services at ImageTrend.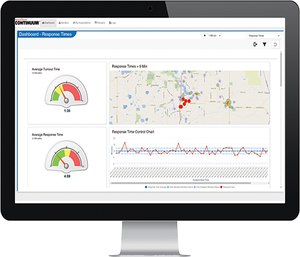 With the connected, real-time nature of the solution, organizational leaders can make informed decisions and take knowledgeable action sooner. CQI, protocol or operational improvements can be made quickly and efficiently.
Continuum is available directly from ImageTrend. For more information, visit www.ImageTrend.com/Continuum.
About ImageTrend, Inc
ImageTrend, Inc. is dedicated to connecting life's most important data in the healthcare and emergency response community. ImageTrend delivers software solutions, data analytics and services for EMS, hospitals, community paramedicine (CP), critical care, fire, and preparedness to enable fully integrated patient-centric healthcare and public safety. ImageTrend's commitment to innovation, its clients, and providing world-class implementation and support is unsurpassed. Based in Lakeville, Minn., ImageTrend combines business analysis, creative design and database driven architecture to offer scalable solutions and strategies for today and the future