PRESS RELEASE
CrewCare designed to gain insight into first responder stress
---
LAKEVILLE, Minn. — ImageTrend, Inc. announces the availability of CrewCare™, a free mobile app for all first responders. It was created in response to the growing concerns about stress and mental health awareness within the first responder industry. The app is designed to help gain insight into life factors that may play a role in anxiety, burnout, depression, PTSD and suicide, which are widespread among those who often face traumatizing situations as part of their occupation, particularly EMS, fire, military and law enforcement.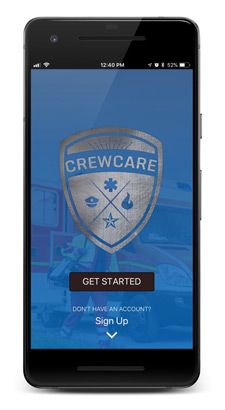 The goal of the CrewCare app is to provide insight for the first responder on stress and associated factors, as well as gain an aggregate, non-identifiable pool of information to help gain understanding into how we can do better at all levels. This awareness may help first responders manage stress or seek appropriate help before its cumulative effect becomes detrimental to their health.
"It is time to treat mental health as we do physical health, for the betterment and overall well-being of this industry. The ability to capture data that may play a significant role in first responder mental health, not only brings awareness, but also can have a significant and positive impact at the first responder, the organization and the industry level," noted Morgan Anderson, Epidemiologist at ImageTrend.
Users will track information about their life, engagement, mood and associated activities. Users will instantly receive results in charts and graphs to give them an overall view of their own mental health over time, as well as how they compare to other app users within their industry. The app provides links to relevant topical resources, mental health support and crisis contacts.
CrewCare is available from the Apple App Store and Google Play as a free download. To learn more about CrewCare, visit CrewCareLife.com or stop by booth #711 at EMS Today, February 21-23 in Charlotte, NC.
About ImageTrend, Inc
ImageTrend, Inc. is dedicated to connecting life's most important data in the healthcare and emergency response community. ImageTrend delivers software solutions, data analytics and services for EMS, hospitals, community paramedicine (CP), critical care, fire, and preparedness to enable fully integrated patient-centric healthcare and public safety. ImageTrend's commitment to innovation, its clients, and providing world-class implementation and support is unsurpassed. Based in Lakeville, Minn., ImageTrend combines business analysis, creative design and data driven architecture to offer scalable solutions and strategies for today and the future.