PRESS RELEASE
First Responders Have Invaluable One-stop Resource With Launch of New PPES Website
---
New website will allow members of the fire and rescue industries to easily keep apprised of the latest in safety gear, handle their equipment certification and scheduled maintenance and continue personnel disaster training.

Wilmington, DE - Personal Protection Equipment Specialists (PPES) has launched a new website prov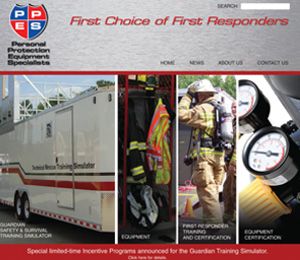 iding a single resource for equipment vital to the needs of first responders. Since its founding in 1996, PPES has become a one-stop source, specializing in meeting all the needs of the fire and rescue industry.
 
The goal of the new website is to provide end-users such as FEMA Urban Search & Rescue, fire companies, emergency medical service providers, terrorists task forces, Hazmat teams and other rescue organizations a centralized location for equipment information and access to rescue and safety products from a wide range of manufacturers recognized as some of the foremost in the industry.
In addition, the website provides complete information, specifications and options for the Guardian, PPES's revolutionary mobile collapsed building training simulator. The GUARDIAN was designed in the wake of 9/11 by Thomas A. Quinn, whose unwavering commitment to meeting the needs of first responders is the result of a lifetime in the industry: first as a firefighter, later as the founder of PPES.  "After helping out at Ground Zero, I quickly came to realize that there was no safe, realistic way to simulate a building collapse," Mr. Quinn revealed. "The Guardian does that – and more – whether it's the result of an earthquake, a terrorist attack, fire or explosion." The website offers not only detailed information and photographs on the GUARDIAN, but also on-camera testimonials and video demonstrations of the simulator in action.
The PPES website has been recreated from the ground up to make it more user-friendly. Accessing information is simpler, faster and more intuitive. The four distinct sections correspond to the four basic areas of service provided by PPES: rescue and EMS equipment, periodic equipment maintenance and certification, first responder training and certification, as well as the GUARDIAN, PPES's revolutionary mobile Collapsed Building Training Simulator.
To explore the new PPES website go to http://www.ppes.us. For additional information contact GStewart@JayGundel.com