PRESS RELEASE
Hale Names October 2010 Safe Firefighter of the Month Winner
---
CONSHOHOCKEN, Pa. — The most recent recipient of Hale's Safe Firefighter of the Month Award is Doug Swartz, assistant chief of health and safety at Clearwater Fire & Rescue. Asst. Chief Swartz has been recognized for his outstanding contribution to the Florida fire department's safety initiatives and programs.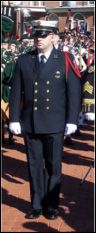 "It's an honor and really humbling," said Asst. Chief Swartz, who was shocked to hear he had won. "I'm grateful to have had the opportunity to help my fellow firefighters improve their safety."
A nine-year veteran at Clearwater Fire & Rescue, Asst. Chief Swartz heads the Occupational Safety & Health (OSH) Committee, the company's internal board responsible for reviewing incidents, equipment safety and department procedures. He runs a peer fitness team, which focuses on firefighter health and wellness by educating members on nutrition and fitness. Asst. Chief Swartz also recently instated a new Accident Review Committee, a four-person review board responsible for examining accidents and addressing preventable problems.
Asst. Chief Swartz has developed several new policies, including the Infection Control Plan, which teaches firefighters how to reduce the risks of infections they may be exposed to on the job. He also started the department's volunteer Honor Guard program, which helps care for families of fallen firefighters by assisting with funeral planning and benefits processing. The Honor Guard also provides families compensation, scholarships to children and participates in fund-raising events to raise donations and awareness for families of fallen firefighters.
When asked what key piece of advice he would like to share with firefighters around the world, Asst. Chief Swartz said, "Don't be afraid to speak up and challenge tradition. If the system isn't working for you, change it. There is always room for improvement."
To nominate someone for Hale's Safe Firefighter of the Month Award, visit www.safe-firefighter.com. Each month, a top candidate will be chosen from the submissions made by firehouses across the United States, and the winners and nominees will have their photos and profiles displayed on the website.
About Hale
Hale, based in Conshohocken, Pa., is a fire and rescue equipment company founded in 1914 by three Pennsylvania firefighters who believed they could build a better fire pump. Today, the company has grown through new product innovation and strategic acquisitions to supply pump modules, compressed air foam systems, electronic controls and valves. For more information, visit www.haleproducts.com.