PRESS RELEASE
ImageTrend Continuum™ named JEMS Hot Product at EMS Today 2017
---
LAKEVILLE, Minn. — ImageTrend, Inc. announced Continuum, the company's Active Data Monitoring™ solution, has been selected as a JEMS Hot Product at EMS Today 2017. The solution was designed to deliver information when, where and how agencies want it for immediate response and care delivery improvement.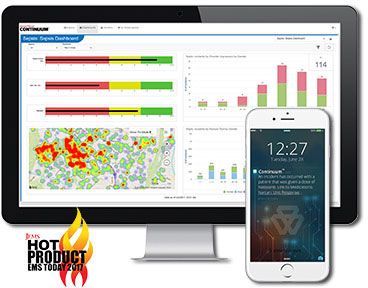 Continuum Monitors are predefined analytics, built by ImageTrend using industry-wide best practices. Within each Monitor, agencies can drill down to expand the level of detail. The end result is easily accessible information that can to help clients turn data into wisdom, make more informed decisions, impact operations and improve patient care.
Continuum Monitors are organized in Domains, such as Procedures, Medications, EMS Times, Sepsis and Crew Care. Fighting the opioid crisis is of particular interest, and states and agencies alike are tracking naloxone usage in their communities. To learn more or watch recorded webinars go to www.ImageTrend.com/Continuum.
Continuum was selected after a team of eight judges, consisting of emergency medical services (EMS) product specialists, physicians, educators, managers and paramedics, reviewed products designed to not only improve the ability to deliver optimal emergency medical care to sick and injured patients, but also allow EMS agencies to do it safely, more efficiently and with enhanced comfort for the patient.
The selection of the final Hot Products appears in the June issue of JEMS and can also be viewed at www.jems.com/2017-hot-products.
About ImageTrend, Inc.
ImageTrend, Inc. is dedicated to connecting life's most important data in the healthcare and emergency response community. ImageTrend delivers software solutions, data analytics and services for EMS, hospitals, community paramedicine (CP), critical care, fire, and preparedness to enable fully integrated patient-centric healthcare and public safety. ImageTrend's commitment to innovation, its clients, and providing world-class implementation and support is unsurpassed. Based in Lakeville, Minn., ImageTrend combines business analysis, creative design and data driven architecture to offer scalable solutions and strategies for today and the future.
About JEMS 
JEMS is the authoritative source of information on prehospital emergency care for EMS providers worldwide. Each month, JEMS presents provocative and challenging articles and columns on clinical breakthroughs, industry news and trends, new products and continuing education. Visit www.JEMS.com for more information.
About EMS Today 
The EMS Today Conference and Exposition, now in its 37th year, is a leader in providing quality education for emergency medical services. An estimated 4.500 delegates will meet in Charlotte, NC for the first time. Serving the emergency services community, EMS Today provides professionals with a valuable combination of progressive education and the opportunity to see the latest equipment from leading manufacturers. EMS Today helps develop careers, create networking opportunities and provide an environment where camaraderie, pride of service and dedication to saving lives is celebrated. Visit www.emstoday.com for more information.