PRESS RELEASE
ImageTrend's 6th Annual EDS Conference Call for Presenters
---
Lakeville, MN - ImageTrend announced an invitation for submissions from members of the ImageTrend and/or the emergency response community to present at the 6th Annual ImageTrend EDS Conference July 16-18, 2014. This conference brings together users of ImageTrend emergency data products, from system administrators to paramedics and first responders, to discuss the implementation, daily use and future of data management in emergency response.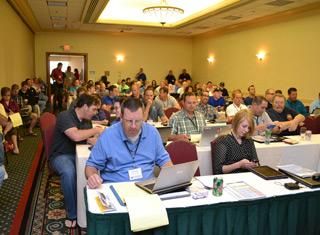 The ImageTrend community is seeking presentations to inform, add value and stimulate conversations in relation to its products and the industry. Conference topics could include presentations on:
Preparing for NEMSIS 3
Using Outcomes Data in an EMS or hospital setting
Real-World Applications of Inspections Data
Improving Efficiency with the QA/QI module
Improving Quality with the QA/QI module
Using ImageTrend Pre-Plan
Maintaining Data Quality and Compliance
Using ImageTrend Tools to Improve Data Quality
Why Data Quality is Important
Using Data to Obtain Grant Funding
Community Paramedicine
Meeting Federal Requirements
Working with Healthcare Coalitions
Topic submissions can be completed using the form at www.ImageTrend.com/EDSCpresenters. Submissions will be reviewed for content suitability, relevance, clarity and experience with ImageTrend products. Speakers will be expected to meet all deadlines for registration and content submission to be included within the conference and conference materials.
Important Dates:
Topic submissions due: December 16, 2013
Notification of topic acceptance: January 13, 2014
Session descriptions and biography due: February 3, 2014
Presentations due: May 12, 2014
ImageTrend EDS Conference: July 16-18, 2014
About ImageTrend, Inc. www.ImageTrend.com
ImageTrend, Inc. is an award-winning software company in Lakeville, Minn., devoted to maintaining a high level of innovation, excellence and quality in its products, service and community. ImageTrend's Web-based applications serve a variety of industries, including government, medical, human resources, business, education and non-profit organizations. ImageTrend combines business analysis, creative design and database-driven architecture to offer the best web applications and strategies.