3 ways drone technology enables real-time experiences on the fireground
Drones equipped for public safety offer firefighting crews and command staff real-time insight so they can strategize accordingly, stay safer and save more lives
---
Sponsored by LETS Corp.
Wildfires in just California and just in 2021 have engulfed over 2 million acres of land and destroyed entire communities. After Hurricane Ida roared ashore as a Category 4 storm, decimating Louisiana's last inhabited barrier island, the storm's remnants triggered tornadoes and flooding along the Eastern Seaboard. In New York City, several people drowned in their basement apartments.
In addition to the usual causes and risks of fire, climate change is fueling extreme weather. Facing these growing threats, fire agencies should take advantage of every tool available to help mitigate damage and loss of life.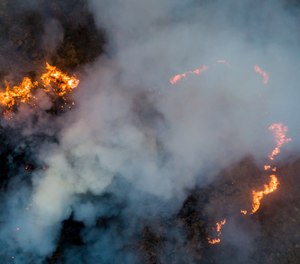 Drones are more than just a tool – they can be an ally, acting as eyes and ears in locations and conditions where human firefighters would not be safe. Drones equipped with thermal imaging cameras, audio, GPS and livestreaming capabilities offer firefighting crews and command staff real-time insight into conditions on the fireground so they can strategize accordingly and stay safer.
But what if your drone doesn't support livestreaming or has excessive delay? That's the exact problem LETS solves with its drone streaming platform that supports virtually every drone, even ones that lack native support for livestreaming. Ultra-low delay and private access maximizes your ability to get the right information to anyone with an Internet-capable devices in seconds.
1. Monitoring fire conditions
Drones equipped with thermal imaging and infrared cameras can see through thick smoke to locate heat signatures. They are already being used to monitor fire behavior and identify fire hot spots, without the need to subject fire crews on the ground to the smoke and heat.
Additional uses, like monitoring wind patterns, are also being explored.
"One of the many things that make wildfires so difficult to contain is the effect a fire has on local winds, which can move the fire in unexpected directions with virtually no notice," wrote Scott Elliott of the National Institute of Food and Agriculture, which is partnering with academia to collect data on fire propagation and fire-generated wind. "Now, technology is being tested that may help firefighters keep pace with a blaze – increasing their safety and allowing them to better position their limited resources."
And in the American West, where wildfires still rage, drones provide a safer delivery system for chemical fireballs that drop from the sky to intentionally set small, prescribed burns to create firebreaks to impede or stop the spread of wildfires while crews attempt to get blazes under control.
2. Assessing structural damage
When conditions on the ground are inaccessible or too dangerous for ground crews, too labor-intensive or extremely urgent, drones offer a safer method for assessing structural damage from fire, tornadoes, hurricanes and other disaster events.
During the emergency response to the collapse of the Champlain Tower South condominium in Surfside, Florida, drone teams from Miami-Dade Fire Rescue and assisting agencies used them in all phases of the operation, for everything from tactical life-saving operations in the immediate aftermath to search-and-rescue operations to structural assessment and investigation. IEEE Spectrum notes that the Surfside collapse was the largest and longest use of drones recorded for a disaster, flying 304 missions over a three-week period.
Drones were also used to monitor and intercept civilians (and their drones) entering the restricted area. When drones identified possible structural integrity issues, rescue operations were paused while scene safety was assessed. In addition, the drones also captured thousands of images that will be used to investigate the cause of the collapse.
After Hurricane Ida, another drone team from Florida State University was airlifted into Grand Isle, Louisiana, to fly a video reconnaissance mission. The drone geotagged photos and videos, allowing crews to map the areas in real time to identify flooded areas, survey damaged structures, map clear pathways for rescue vehicles and help disaster recovery teams identify areas of priority.
3. Conducting search and rescue operations
In addition to locating survivors and victims of natural disasters, drones are often used by police and fire departments in search and rescue operations.
Human-piloted drones are routinely locating ­– and saving the lives of – missing elderly people, children, hikers, people with disabilities, crash victims, surfers and others. (Drone manufacturer DJI keeps track of drone rescue incidents around the world.) Drones equipped with microphone arrays can help rescuers communicate with survivors to direct them to safety or assure them help is coming.
In mountain rescues, for instance, where missing persons are subject to hypothermia, fall risks and animal attacks, and rescuers are at the mercy of darkness, inclement weather and rough terrains, locating a victim by drone is typically faster, cheaper and safer than a helicopter or ground rescue for everyone involved.
Autonomous drones equipped with sensors offer additional promise in using artificial intelligence tools to identify and locate victims in rubble. Long-range drones are also being used to deliver medical care like blood units, AEDs and COVID vaccines to medical facilities in remote areas.
Maximizing what drones can do
While some public safety agencies are finding success using consumer-grade drones, the higher latency of a consumer drone can make them impractical for critical situations where real-time information is a matter of life or death.
A video streaming platform like LETS enables low-delay livestreaming on any drone and allows any authorized viewer to watch the livestream from their device, giving fire commanders, emergency response teams, inspectors and others real-time situational awareness they need to save property and lives.
Visit LETS Corp. for more information on their video streaming platform.

Request information from LETS Corporation
Thank You!