'Certainly justifiable': Calif. captain defends $25K for drone service to catch illegal fireworks
Kern County Captain Andrew Freeborn said the cost to use the service is offset by funds received from citations, which this year totaled $150,000
---
Ishani Desai
The Bakersfield Californian
KERN COUNTY, Calif. — The services of a company providing drone surveillance to catch illegal fireworks users over the Independence Day weekend cost taxpayers thousands of dollars, money the Kern County Fire Department said was well worth it.
The county's agreement with Solvang-based Overwatch Aero, LLC, in effect from June 23 until the end of June next year, calls for spending no more than $44,500. How much is ultimately spent remains to be seen.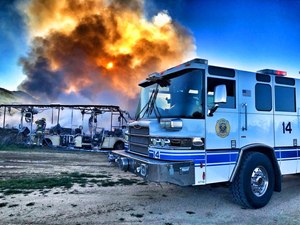 The Californian obtained a copy of the contract through a California Public Records Act request after fire officials originally refused to name who was providing the drone service.
Overwatch Aero, LLC's fee schedule stated each deployment costs $1,125. A $2,250 per hour flight rate, with a minimum flight charge of three hours per day, includes a live full motion video stream delivered to county personnel, data including location and video evidence and labor for flight operations, according to the contract.
KCFD noted the drone flew on July 3 and July 4.
Billable hours of the drone's use for the holiday are estimated to add up to about $25,000, Capt. Andrew Freeborn, a KCFD public information officer, wrote in an email Tuesday. This amount is justified, he noted, because the cost of using the drone is offset by funds received from citations.
Initial estimates show the drone flagged 100 potential violations with citations of $1,500 each, which results in revenue of roughly $150,000, Freeborn said via email.
"From a public safety standpoint it is certainly justifiable," Freeborn continued. "The use of a UAV (unmanned aerial vehicle) is a tremendous deterrent for individuals thinking of using illegal fireworks."
The county fire department rolled out its plans to use the drone in a June 30 news conference. It was that day that officials would not say who was providing the drone service, saying the company requested privacy. At the time, Freeborn said many residents may view the contractor unfavorably after helping the fire agency in an investigative capacity, so that was another reason to withhold this information.
The county fire department honored those requests, Freeborn previously said, because the company is made up of veterans. KCFD Fire Chief Aaron Duncan also previously declined to release the name.
---

Read next
How drones can aid fire service response
Consider assigning drones to specific apparatus to ensure incident commanders can dictate the drone's deployment when needed on scene
---
David Loy, the legal director of the First Amendment Coalition, which advocates for open government, said there was nothing illegal about Freeborn declining to name the company and instead directing a reporter to file a CPRA request. However, there is no reason for a government official to refuse to share information that's contained in public documents, he added.
"That sounds to me a lot like stonewalling," Loy said.
Loy noted KCFD complied with the law by fulfilling the CPRA request. He said he even respects Overwatch Aero, LLC asking for its name to remain private. But these actions don't comply with the "spirit" of the CPRA, Loy added.
A business should not contract with the government if it does not want its name disclosed, Loy added. That is the cost of doing business with the government, he noted.
"The whole point of democratic governance is to be transparent," Loy said.
A personal or professional services agreement is a type of contract under $200,000 and does not have to be approved by the Board of Supervisors. The most qualified vendor must be selected, according to the Kern County Administrative Policy and Procedures Manual.
Any contracts above $200,000 must be approved by the Kern County Board of Supervisors, the manual stated.
Carol Cox, a purchasing manager for Kern County who handles PPSAs, said in a phone interview Tuesday that the county developed this process to be more efficient. She added efficiency does not mean processes are overlooked or any awards are incorrectly made.
Overwatch Aero, LLC's website said it provides services for emergency responders, non-governmental organizations and commercial operators. Social media showed the company helping fire agencies around California while battling blazes to get aerial views and provide real-time data to people fighting fires.
Terms of the personal or professional services agreement say Overwatch Aero, LLC will likely deliver several missions throughout the agreement term.
The KCFD requested aerial reconnaissance for up to 12 hours "on station," according to the contract. A drone's use could include investigations, hazmat incidents, floods, earthquakes and fires.
Freeborn noted Tuesday there are no other scheduled or planned uses of the drone.
___
(c)2022 The Bakersfield Californian
McClatchy-Tribune News Service
Request product info from top Drones companies
Thank You!