How drones can aid fire service response
Consider assigning drones to specific apparatus to ensure incident commanders can dictate the drone's deployment when needed on scene
---
With public safety usage and applications exploding, fire department drones are poised to be the next technology to redefine emergency response. FireRescue1's special coverage series – Emergency response in the drone age – takes an in-depth look at considerations for fire departments looking to implement a UAS program.

By Matthew Clark, alumni, Master's in Public Administration, American Military University
The fire service is continually adapting its response to emergencies that are increasing in both severity and complexity. The Thomas Fire in California, for example, was a massive wildfire that destroyed more than 1,000 structures – 500 in the first few hours of the blaze. The fire wiped out thousands of acres of hillside vegetation, leading to devastating mudslides that killed 20 people. To aid in response efforts to complex natural disasters, new technologies can provide responders with enhanced situational awareness and response capabilities.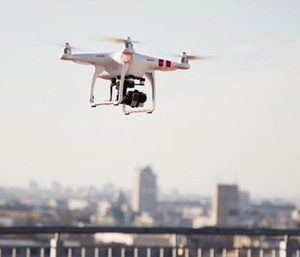 Benefits of deploying drones during response
Deploying unmanned aerial vehicles, more commonly referred to as drones, can yield many benefits for emergency responders. For example, as units arrive on-scene, drones can provide a comprehensive picture of the initial incident. This information helps commanders determine the size of the incident, its severity, what initial resources are needed, and the overall response objectives. For example, the Conway Volunteer Fire Department in Missouri recently deployed a drone over a multiple vehicle accident on a major interstate to assess the scope of the incident and determine an effective response plan.
During a large or complex incident, it may not be feasible to capture a complete 360-degree view, due to the location of the incident. Even so, drones can often help incident commanders fill in information gaps by capturing snapshots about response operations in real-time. The ability for incident commanders to know real-time conditions of the scene, along with progress of current response efforts, helps them adjust tactical decisions to meet the current situation.
In addition to providing real-time information, drones can be programmed to record operations. These recordings can be used for after-action assessments, identifying future training needs, or even to provide detailed information to local media so the community has an accurate perspective of the emergency.
International drone deployment
Using drones for emergency response is becoming increasingly common around the world. I was first introduced to drones in the fire service in 2012 while working for the Kaiserslautern Military Community Fire Department in Germany. At the time, drones were a fairly new technology. The department's first drone was purchased as part of its hazardous materials response.
During a hazmat response, the drone was set up and used in an initial entry capacity. The drone allowed the commander to evaluate the type, size and location of the hazardous materials release. This reduced exposure times to responders and identified required mitigation techniques. The drone was added to the hazmat rescue apparatus, ensuring it was available when called for by the incident commander.
The drone was also used as a training aid; it was deployed during training evaluations to record initial response. The recording was later reviewed in a classroom setting, where instructors could highlight techniques, possible improvement areas and show response objectives in action.
What to consider before buying a drone
Despite all the advantages of using drones in emergency response, there are also some drawbacks. The first hurdle to establishing a drone program is figuring out what drone, at what price point, will meet the needs of the department. Purchasing a drone is a highly involved process and should not be taken lightly. A simple online search of drones produces dozens of manufacturers that offer thousands of variations with numerous capabilities. Drones can range from 10 dollars to thousands of dollars.
Before making a decision, it is critical that fire departments first establish how they intend to use the drone. Drones have been used in various situations, from responding to a single-family residential fire, to a coordinating response to a large mass-casualty incident. Potential uses are endless, so it's important for an agency to determine their specific needs.
Once objectives are determined, decision-makers need to start the process of finding manufacturers that can produce drones to meet those needs. A good place to start this search process is by reaching out to other fire departments that have an established drone program. Ask other fire leaders how they are using drones, their evaluation criteria and what other products they considered.
Designate dedicated drone operators
Throughout this process, it's important for departments to designate drone operators and involve them in the decision-making process. These designated operators should participate in evaluating drone products, participating in live demonstrations of different models, and conducting cost and feature comparisons. Once a product is selected, operators will need to be given proper training and time to extensively practice using the equipment to ensure they can operate the drone safely and effectively during an incident.
Fire leaders should also consider what apparatus to assign the drone to ensure it's available when needed. While we assigned drones to hazmat apparatus, other agencies may consider assigning it to command vehicles to ensure an incident commander can dictate the drone's deployment.
No matter how a department decides to implement a drone, this technology can significantly enhance scene management and help fire leaders effectively meet their response objectives.
About the author
Matthew Clark currently serves as the C-shift captain for the Williston (N.D.) Fire Department. Clark most recently served as a firefighter for the U.S. Air Force. He also served as a captain, driver/operator and firefighter while stationed at Edwards Air Force Base in California and Ramstein Air Force Base in Germany. Clark has since continued to serve as a firefighter for the Air Force and is currently attached to the 119th Air National Guard Wing in Fargo, N.D. Prior to his service, Clark worked as structural and wildland firefighter in Montana. Clark has continually pursued higher education receiving his Associate's degree in Fire and Rescue in 2009 from the University of Montana and his Bachelor's in Fire Science Management in 2013 from American Military University. He recently completed his Master's in Public Administration in 2017 from American Military University. He has begun working towards a Doctorate of Education. To contact the author, please email IPSauthor@apus.edu. For more articles featuring insight from industry experts, subscribe to In Public Safety's bi-monthly newsletter.
This article, originally published in 2018, has been updated.