Launching a fire department drone deployment program (eBook)
How drones can be deployed in the field, and steps agencies should take to develop a successful drone program
---
Sponsored by DJI
Drones are increasingly sought-after tech tools for fire departments looking to expand their response capabilities. From assisting on search-and-rescue missions to capturing an aerial view of wildfire progression, drones provide fire service personnel with an unprecedented view of an
incident scene from a safe distance.
As departments continue to adopt this technology, the members charged with managing drone programs can find themselves wondering where to begin.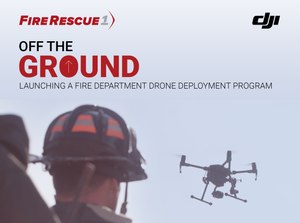 Download this free eBook to learn what steps a fire agency should take when looking to add a drone to its arsenal of tools, including:
How firefighters can use drones during all-hazards incidents.
Four steps to a successful drone program.
How to overcome the challenges of starting a drone program.
Fill out the form for your FREE eBook.