Higher education: A 'big picture' perspective on why it matters for firefighters
Earning a degree from an accredited program pays dividends in the fire service and beyond
---
A lot has been written concerning the fire service's trend toward higher education. To be clear, I am a proponent of educational requirements in the fire service. I am one of those people who believe a well-rounded college education helps personnel, and officers especially, succeed in the fire service and life in general.
That said, I've been asked if a college degree takes the place of field-level experience? My answer is, "absolutely NOT." But when combined with the appropriate amount and type of field experience, a college education can help build the fire service professional.
I'm sure you've read articles and heard the arguments that completing an accredited degree program improves writing proficiency, communication skills and research capability. That's all true, and it doesn't take long to realize their impact as one moves through a fire service career.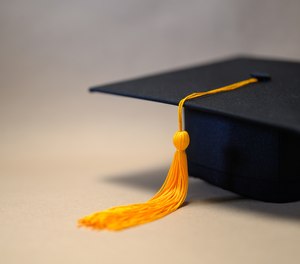 But let's consider this from another angle – a "big picture" standpoint.
The bigger picture about education
After a career in the fire service and more than a decade in higher education, I've heard the arguments against education requirements. But most of them are short-sighted. Sure, when someone calls 911, they aren't going to ask if the responding personnel have a high school diploma or a Ph.D. And we've all worked with or around "book smart people" who have every set of initials in the signature line of their email but couldn't make a split-second decision on an emergency scene. But if you just make arguments against education requirements, you are missing out on several great opportunities.
Promotions: The most memorable example came from one of my favorite company officers when I was a young firefighter. We were talking about an upcoming promotional exam and how none of us would want to work with some of the candidates. His sage advice was, "If you don't want to work for that type of person, you need to be prepared to score better in the promotional process." The fact is, higher education requirements are a growing part of the prerequisites list for promotional exams, and a huge part of getting ahead of the competition in departments where a degree isn't required. Dismissing the significance of degree requirements only hurts you when it comes to promotional opportunities.
Cost-savings: Besides the promotional opportunities associated with an accredited degree, you need to consider other things. Many departments provide education incentives, reimbursement programs, or both. If someone else is going to pay for you to go to school or give you more money in your paycheck once you've graduated, why wouldn't you do it? Plus, there are tuition discount programs available for fire service personnel at some colleges and universities.
Access: Don't forget that fire service leaders interact with all sorts of different people each day. Many of them – including career politicians, city or county managers, department heads and attorneys –may play a role in approving funding or making administrative decisions. Others – business executives, community group leaders and the public – can influence budget decisions. A solid formal education can help put you in a position to interact and collaborate with these people confidently.
Side jobs/expanded careers: You may even have opportunities outside of your fire department. Depending on how far you go in your educational journey, you may be able to turn your degree into a steady side income.
Most fire service personnel end up working at least one other job. Many times, that side job is also in a labor-intensive position. Earning that degree may be a gateway to a career with duties and responsibilities you can perform well into your retirement years. It may also open you up to job opportunities with another agency or after retirement.
My personal experience
These are not all hypothetical scenarios. I'm writing from personal experience. I was fortunate enough to have parents who pretty much forced me to earn a bachelor's degree before I entered the career fire service. That set me on a path to a successful career long before degree requirements were commonplace.
Early in my career, I saw the benefits of organized labor and became very involved in my local union. At that point, my wife encouraged me to pursue a master's degree in employment law. That master's degree catapulted me into new positions within the union, put me above the competition for promotion within the fire department, and qualified me to teach at a university. After promoting, I took a position as an assistant chief in another department and have been teaching fire science for more than a decade.
Since retiring from the fire service, I have the opportunity to stay engaged by developing policies, procedures and training for fire departments nationwide. I almost forget to mention that the post-retirement job opportunities have allowed me to work remotely, travel full time and spend an extraordinary amount of time with my family. There aren't many jobs that allow that type of flexibility without also requiring a degree.
The moral of the story is that, without a doubt, earning those degrees paid significant dividends in my life. I'm confident that I would never have risen to the upper levels of the fire service, nor would I have a second career after retirement, without having earned those degrees. So think about that as you are deciding whether or not to pursue a degree program.
Choosing a degree program
If I've convinced you that it's time to pursue higher education, there are a few factors to look for in a degree program.
Accreditation: First, you want to make sure the college or university is accredited. Accreditation from one of the six regional accrediting organizations is the gold standard. Credits and degrees from institutions that are regionally accredited generally transfer to other schools without a problem. The ability to transfer may be especially important if you find you need to change schools for any reason or decide to pursue an even higher degree down the road. If you're wondering whether the school you are considering is regionally accredited, the easiest thing to do is to determine which organization accredits the state universities in the state where the school is located.
Cost: After you've narrowed down your choices based on accreditation, it's time to consider cost. You'll want to explore any discounts available to you through things like union membership or military veteran status. While it's easy to compare tuition rates, you want to make sure that you compare "apples to apples" between schools. Some institutions include fees and textbooks in their basic tuition, while others charge for those items separately.
Transferring credits: Transfer and prior learning credits also fall into the cost considerations. If you have any credits you've previously earned, you want to know if they will transfer to your degree program. Many colleges and universities that cater to adult learners have programs that award you credit for college-level learning that you've acquired outside of a formal classroom. The International Fire Service Accreditation Congress (IFSAC) and Pro-Board certifications may transfer as course credit or allow you to test out of certain courses, depending on the college or university. All of these can significantly decrease the cost of your degree and may even help you graduate a lot sooner than you thought.
Style – traditional vs. online: A final consideration is the style of the degree program. You need to decide if a traditional classroom approach fits your needs or if an online program suits you best. Both have their advantages and disadvantages.
In the traditional classroom setting, you have "face time" with the instructor and your classmates. That can be very helpful for some students to stay engaged, especially when learning tough concepts. But a disadvantage is the schedule for classes. Many fire service personnel can't attend class every Monday, Wednesday and Friday, for example.
Online learning, on the other hand, is generally more flexible. That can be great for someone who is a shift worker. But that flexibility comes with the caveat that students often don't feel connected to each other or their instructors. Remaining engaged in the remote/online learning environment can be difficult for some students.
My suggestion to overcome this issue is to find a school that has a live component to the online environment. Many colleges and universities have course schedules that include a weekly live lecture, allowing the students and instructor face-to-face interaction. This active learning component can help keep you, the student, engaged in the material. Making a recording available for students who missed the live lecture is pretty common. That allows for the flexibility that draws so many people to online education.
Now is the time
College degrees and higher education are a part of the fire service and will become indispensable to career advancement as time goes on. Going to school for higher and advanced degrees will undoubtedly have a positive impact on your personal and professional life for years down the road. If you're considering earning your degree, now is the time. It's a decision you won't regret.

Request product info from top Fire Education companies
Thank You!