'Look at Motch': The firefighter-teacher who inspires young minds
It's not all bad news; there are good people like John Motchkavitz finding creative ways to drive positive change
---
If you've followed my writings over the years, I almost always focus on problems in our profession that need to be solved – and I do my best to offer solutions. Be it political, operational or leadership issues, or topics dealing with safety, health, survival or close calls, from a young age, I have noticed the stuff that needs to be fixed.
Remembering tragic losses
My interest in firefighter survival came from the line-of-duty deaths (LODDs) of several firefighters on Long Island, New York. As a young firefighter, I attended the funerals of firefighters in Garden City Park, Valley Stream and Bethpage, and at that time, was taken aback at how these losses were essentially "accepted" as part of the job. And back then, that was how we were.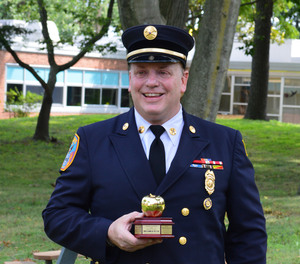 I remember the 1977 fire where Garden City Park Captain Richard Provost, 37, died of injuries sustained while fighting a van fire where illegally transported propane cylinders exploded.
I also remember the Temple Gates of Zion fire, which claimed the lives of Valley Stream Fire Captains John Tate Jr. and Michael Moran. It was 3:30 a.m. on Thanksgiving morning, Nov. 22, 1979.
And I remember in detail May 25, 1978, when Bethpage Fire Captain Joseph Dunn and Firefighter Robert Hassett lost their lives fighting an arson fire at Brothers 3 Pools. 
All of those fires, and unfortunately several others on Long Island in the 70s, drove an interest in firefighter safety and survival – a focus for which I've been able to have a positive impact on the fire service throughout my career,
Firefighter families
I also think back on the many firefighting families I have met over the years.
While I was the first in my family to become a firefighter (and I'm proud of my son, who has continued the tradition), many other firefighters had several family members who were part of the fire department. One family in particular was the Motchkavitz family in the community of Great Neck, New York.
In the 60s, as I would ride my bike, chasing fire calls when the whistle blew, one area family would turn out – in their plumbing truck – to answer the fire call. The Motchkavitz brothers, Lenny and the late George, were icons in the Great Neck Alert Fire Co. and made a huge impact on those around them. 
Fast-forward to today, and that family continues to give back – and that's what this column is about: doing some good. 
George left behind two firefighting sons. One, George Jr., is a well-recognized, decorated hero firefighter and former chief. I could tell you some wonderful stories about him – and will, another time – but today, I want to focus on his other son, John.
Dual roles: Firefighter and teacher
You may have seen John (aka "Motch") on TV back in 2014. A teacher at Great Neck South High School, John was a finalist in the top teacher search on the morning talk show "Live with Kelly and Michael." He became world-famous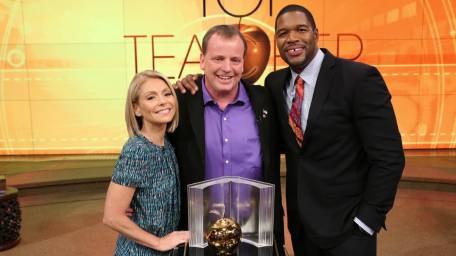 ! Sorta. He wasn't the final winner, and personally, I think that was actually the first clear case of the Russians meddling in our elections. But anyway ....
John is the Business/Technology department head at Great Neck South High School. He is also past-president of the Great Neck Alert Fire Co. and an active firefighter. His kids are firefighters, too. I mean, of course they are. But again, let's focus on John.
John came to the Great Neck Public School District in September 2002 after spending his first 12 years teaching in another school district.
Ten years ago, John developed a course curriculum on fire safety technology that has been really popular among students. This class provides students interested in the fire service with an in-depth understanding of the many aspects of this important area and how it affects each and every one of us. Many of those kids who have taken it have gone on to careers in various fire and emergency service areas. This class is very unique and forward-thinking … and needed at a time when a career in fire and rescue isn't drawing the interest it used to. 
Safety first … in everything
John is also the lead mentor and the founder of Great Neck's award-winning robotics team, Rebel Robotics, and John being John, he has stressed safety from day one. The team was formed on the foundation of safety principles. John has his team of 130 students learn CPR, AED and first aid as a requirement on a yearly basis. He also has them all understand the importance of OSHA and UL rules.
The team has won countless awards, including being awarded the Top Safety Team three times at the World (the World!) Championship of Robotics. The Rebel Robotics team also visits many community groups and schools to discuss safety. Just a bunch of kids ....

John continually teaches "his kids" the importance of safety procedures in society. He brings safety protocol and procedures to many of the students, starting in elementary school, simply to set the right tone.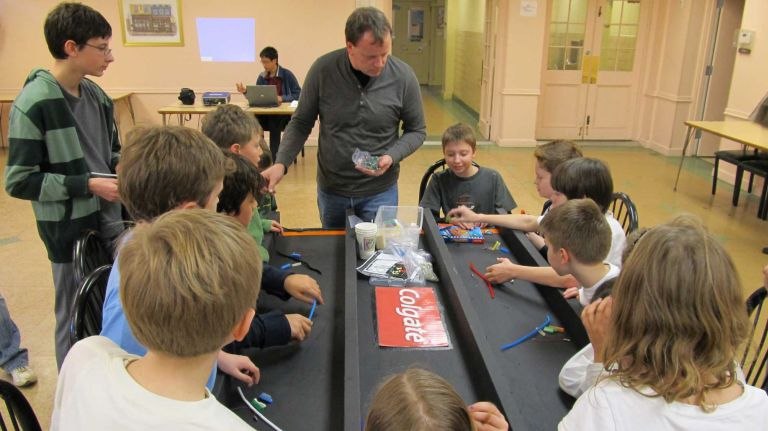 A true motivator
John is about as genuine as they come. What you see is what you get. A dad, husband, firefighting teacher and robotics coach whose focus on safety drives him (and those around him) on a daily basis – and his students see that. In this age of people being afraid to "catch" something, John's infectious, smiling enthusiasm for making a difference is impossible to not catch.
Almost all of the students are so inspired by Motch's work ethic and how much he gives back to the community that they go on to join the local fire companies and junior fire organizations.
There is no shortage of things to be annoyed about today; however, I've always tried to focus on what I can impact in my little corner of the world.
My motivation comes from people like John Motchkavitz, a man who, instead of whining and complaining, has taken his little corner of the world and made a very measurable and positive difference. As a matter of fact, the Firemen's Association of the State of New York (FASNY) recently recognized John as its 2020 FASNY Teacher of the Year. Each year, FASNY reviews submissions from communities to honor their best fire service educators. This year, they recognized the good John has done for so many, for so long.
While I often share issues in this Fired Up! column about things that need to change, the change here is about what John has done (his impact) as an example of what can be done in any of our communities. We just have to want it.
Recruitment issues? Look at Motch. Finding the "good" in the future grownups in our communities? Look at Motch. Want to spend more time making a positive difference? Look at Motch.
FASNY looked at Motch and found someone who takes whatever is placed in front of him and improves it. It's also a wonderful example of what other fire organizations should look at doing –recognizing the good so that others can help spread that kind of infection. Just look at Motch!
Editor's Note: Do you have a "Motch" in your community – someone who inspires others and focuses 110% on the safety mission? Share their story with the editor at editor@firerescue1.com.

Request product info from top Fire Education companies
Thank You!