Mission Critical Partners announces agenda for 2022 Conference for Advancing the Public Sector
The conference is free for public sector employees, and discussions will include retention, recruitment, 911 and more
---
By Leila Merrill
STATE COLLEGE, Pa. — Mission Critical Partners announced the full agenda for its 2022 Conference for Advancing the Public Sector, which will be held virtually May 17-18.
Multiple tracks will be offered. The two-day event features nearly two dozen educational sessions and panel discussions. The goal is to help public-sector leaders understand and respond to critical trends and issues affecting their organizations and stakeholders.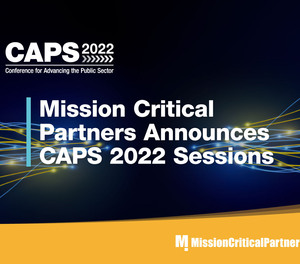 The agenda includes:
911: A panel discussion on national-level projects underway to improve "a) improve emergency communications interoperability; b) begin the process of building a national 911 data system; c) establish interoperability between computer-aided dispatch systems nationwide, and more," according to a Mission Critical news release.
Data: Experts on big data, the use of artificial intelligence and machine learning to analyze enormous amounts of information, will discuss the potential to improve responses and outcomes.
Recruitment and retention: The panelists will discuss causes and useful strategies.
Other topics include hybrid and remote hearings, geographic information systems and cybersecurity.
The keynote speakers include:
Nola Joyce, an independent consultant to public safety and an MCP board member, will explore the challenges facing law enforcement agencies today.
Dr. Katherine Kuhlman, principal with Kuhlman Psychology and Consulting, will discuss strategies that public safety and justice leaders can use to help their personnel cope with uniquely stressful environments.
Richard Osborne, senior cybersecurity architect, and Matthew Yates, director of operations, for Secure Halo, which MCP recently acquired, will explore strategies used by federal agencies that state and local public sector organizations can use to reduce their cyber vulnerabilities.
Darrin Reilly, MCP president and chief executive officer, will examine the current state of communications across the public sector, as well as several initiatives designed to enhance interoperability, data integration, cybersecurity, and Next Generation 911 readiness.
The conference is free for anyone who is employed by a public sector organization. Vendor
personnel may attend for a $400 fee. The registration page is here.

Request product info from top Fire Education companies
Thank You!