PRESS RELEASE
American Public University system announces Everyday Heroes Grant for public safety professionals and their families
---
 Police, Fire, Emergency Medical Services Personnel, and their Family Members to Receive 10-Percent Grant on All Undergraduate and Master's Programs
CHARLES TOWN, W.Va. - As part of its continuing commitment to affordable and accessible higher education, American Public University System (APUS) today announced a new tuition grant for law enforcement, firefighters, and emergency medical services (EMS) personnel, plus their immediate family members. The Everyday Heroes Grant program* gives a 10-percent grant on both undergraduate and master's-level programs at American Public University (APU) and American Military University (AMU).
Parents, a spouse, legal partner, siblings, and dependents of public safety professionals are also eligible to use the grant.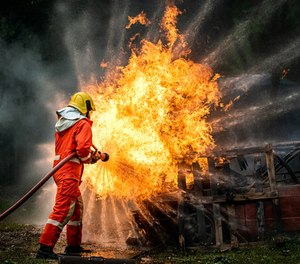 "From the very beginning, APUS has been a beacon for those who wear the badge of service and honor," said Nuno Fernandes, APUS President. "Today, with the Everyday Heroes Grant, we reiterate our profound respect and unwavering support for these selfless individuals. They charge into the unknown, tackle the toughest challenges, and emerge as symbols of hope for us all. Our commitment is a small token of appreciation for their monumental contributions."
AMU and APU have numerous, long-established programs serving the increased needs of public safety professionals, including Homeland Security, Emergency and Disaster Management, Cybersecurity, Fire Science Management, Criminal Justice, and Security Management. For a list of more public safety-focused programs, visit our School of Security and Global Studies.  
Eligible students can use the grant immediately.
About American Public University System
American Public University System (APUS) delivers affordable, high-quality, workforce-relevant higher education. With a vibrant, diverse, and inclusive, 31-year history and over 135,000 alumni from more than 100 countries, APUS is recognized for its innovative approach to online learning. APUS is in the top 11% for students' return on educational investment, compared to 4,500 colleges and universities nationwide, according to the Georgetown University Center on Education and the Workforce (2022)1.
APUS, which includes American Military University (AMU) and American Public University (APU), is accredited by the Higher Learning Commission (HLC), an institutional accreditation agency recognized by the U.S. Department of Education. APUS is a wholly owned subsidiary of American Public Education, Inc. (Nasdaq: APEI). For more information, visit www.apus.edu.
1Ranking based on 20-year net present value (NPV) https://cew.georgetown.edu/cew-reports/roi2022/. 
*Everyday Heroes Grant cannot be combined with other university grant offers. Only one tuition grant can be applied per course registration.