PRESS RELEASE
Don't forget to vote for the winner of MADD's First Responder Trick Shot Challenge
---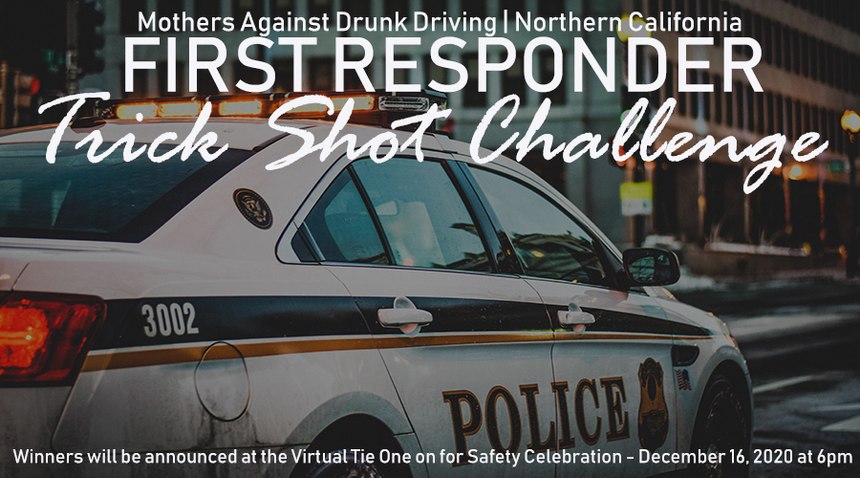 SACRAMENTO, Calif. — A video submission competition for first responders (law enforcement, fire, EMT). Each department, shift, office or individual submitted a 30-second or less video of a creative, unique, challenging or humorous basketball trick shot. Both the submissions and voting can be found here.
The team with the most votes will win a brand new wood pellet grill valued at $499. This competition is a part of MADD's Tie One On for Safety campaign to raise awareness about drunk and drugged driving around the holidays and to encourage people to designate a driver so that everyone may have a safe holiday season. Each social media post about this competition includes @MADDCalifornia and #TOOFS and #designateddriver.
WHEN: Now until 5 p.m. PST on Friday, December 11
WHERE: Virtual campaign
WHO: Presented by MADD Northern California                         
WHY: Some of the most dangerous days of the year on our nation's roadways are between Thanksgiving and New Year's Day. In 2019, 1,068 people were killed in drunk driving crashes, which is 29 percent of total traffic fatalities during this time. That is why every holiday season, from November 1 through December 31, MADD asks you to display a MADD red ribbon in a visible location to remind others always to designate a non-drinking driver.
Started in 1986, Tie One On For Safety is MADD's longest-running and most visible public awareness project. The name comes from the phrase "tie one on," which is slang for drinking alcohol. But at MADD, we use the phrase to remind everyone that drinking and driving don't mix.
Annually in the US, over 10,000 people are killed and roughly 290,000 injured due to impaired driving crashes, including over ten Californians killed this holiday season. Each crash, each injury, and each death impact not only the person involved in the crash but also family, friends, classmates, colleagues, and more. Each one of these injuries and deaths are 100% preventable. 
For those personally impacted by drunk driving, drugged driving, and underage drinking consequences, MADD Victim Services are available at no charge, serving one person every fifteen minutes through local victim advocates and MADD's 24-Hour Victim Help Line, 1-877-MADD-HELP.
About Mothers Against Drunk Driving (MADD)
The mission of Mothers Against Drunk Driving (MADD) is to end drunk driving, help fight drugged driving, support the victims of these violent crimes, and prevent underage drinking.