PRESS RELEASE
FIERO Celebrates Strong Station Design Symposium
---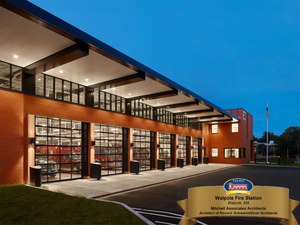 It was a record year for the Fire Industry Education and Resource Organization (FIERO). In September, FIERO recently completed their 19th annual Station Design Symposium (SDS) held in Raleigh, NC. The conference was full of attendees that had traveled from across the country and the globe, including from over 35 states, Canada, the UK, and Saudi Arabia.
For the first time, FIERO offered a pre-conference seminar on Training Facility Design and Construction on Sunday, September 22. The one-day pre-conference event covered topics such as the New NFPA 1402 Standard; combination facilities; new training technologies; and the benefits of pre-engineered versus conventional training structures.
Boston Fire Commission Joe Finn opened the main conference on Monday, September 23, with a Keynote Address about the deep cleaning of Boston Fire Departments. The following two-and-a-half days was filled with informative presentations delivered by architects, engineers, fire service members, and other subject matter experts. Topics included how to develop private-public partnerships (PPP); how to get the right start for your fire station – should you renovate or knock it down; the importance of feasibility studies and site locations; simple solutions to build healthy stations; incorporation of equity, efficiency and gender inclusive design; exploration of federal requirements including OSHA and ADA; how to develop proper decontamination facilities; and how to furnish a high performance fire station.
During the conference, FIERO also held the annual F.I.E.R.O. Station Design awards. Any agency that had built or renovated a facility within the last five years, or has a facility "on the books," were qualified to enter the design award process. A record number of award entries were received and the judges spent many hours reviewing the numerous submissions from over 20 architecture firms prior to selecting winners in three award categories. The 2019 award winners can be viewed on FIERO's site.
Over the years, FIERO's Station Design Conferences and PPE conferences have experienced constant and continued growth. To ensure adequate space for attendees and exhibitors, FIERO is happy to announce that the 2020 Station Design Conference will be moving to the Hyatt Regency in Greenville, SC from September 21 -23, 2020. The one-day Pre-Conference on Training Facility Design & Construction will return on Sunday, September 21. FIERO will also hold the 2021 PPE Symposium at the Hyatt from March 15-17, 2021.
For more information about these upcoming events, please visit their webpage, www.FIEROonline.org, follow them on Twitter @FIEROfire, or e-mail info@fieroonline.org.