PRESS RELEASE
Medline Joins EMS Leaders to Advocate for New Laws Supporting Rural Operations and Workplace Well-Being
---
Medline EMS recently attended EMS on the Hill Day, ran by the National Association of Emergency Medical Technicians (NAEMT), to educate members of U.S. Congress on urgent issues impacting EMS operations.
"EMS On The Hill Day is an opportunity for EMS professionals from across the United States to advocate on behalf of the EMS profession and the patients we serve," says Matt Zavadsky, NAEMT president. "United under the aegis of our EMS Star of Life, we can speak with legislative leaders, deliver a unified message, and request their support to drive advocacy at the national level where sweeping change can then impact state and local efforts."
In light of the increased risk of violence and post-traumatic stress EMS practitioner's face on the job, a core focus of this year's event was workplace well-being. Medline met with Congress members to rally support for new laws that can improve the physical and emotional health of EMS practitioners, as well as assistance for rural communities.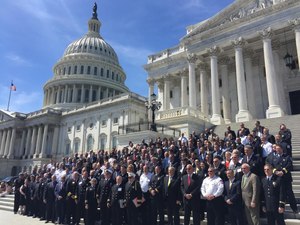 Combatting Workplace Violence
The CDC estimates that 2,600 EMS workers received hospital treatment in 2014 for injuries resulting from work-related violence. Common forms of attack include being pushed, knocked down, kicked and bitten. Bill H.R. 1309, introduced in February, pushes for a change to protect America's caring professions, including EMS. The proposed bill would require OSHA to issue a Workplace Violence Prevention Standard, which would compel employers to implement proven practices to reduce the risk of violence on the job.
"As an EMS chief, one of our biggest challenges is dealing with violence in our profession. We came to Washington D.C. with many requests, but this is one near and dear to my heart. We need help in providing better training to prevent any EMS provider from being injured or killed while trying to help our patients in the field," says Andrew Jackson, director of the Putnam County EMS.
Elevating Resources for Post-Traumatic Stress
EMS practitioners and firefighters are often the first to witness distressing events, and exposure can lead to psychological issues such as PTS, which many EMS agencies and fire departments are ill-equipped to handle.
The Helping Emergency Responders Overcome (HERO) Act provides resources to help these agencies and departments recognize and treat PTS, provide grants to establish and assist peer-to-peer support programs, and collect data on EMS practitioner and firefighter suicides. It currently addresses the needs of EMS practitioners and firefighters working for public or nonprofit agencies, but the EMS industry is requesting to expand the bill to ensure that all 911 responders are covered.
"First responders assist those in need at their darkest hours, and many cannot fathom the sights and sounds that they have encountered," says Brandon Bleess, MD,EMT-T,FAAEM. "Developing evidence-based mental health tools through the U.S. Department of Health and Human Services allows for distribution on a larger scale and would allow stakeholders, such as national organizations and experts, to lend their expertise to this process."
Enhance Funding for Rural EMS
Rural EMS organizations across the country have shuttered due to funding shortages. The Supporting and Improving Rural EMS Needs (SIREN) Act, signed into law December 20, 2018, created a grant program for public and nonprofit EMS agencies in rural areas that supports recruitment, retention, education and equipment for EMS personnel. EMS advocates are requesting an additional $30 million to help support and fund rural EMS organizations in fiscal year 2020.
"The siren act will deliver a powerful amount of money to rural units to respond to distant farms and homes with the proper equipment and training. Working together with Sen. Durbin and others from NAEMT to make this bill specifically effective has been a rewarding challenge. The law will certainly save lives and shape the future of young medical providers lives as well," says Mark J. Kennedy, A.S., CCP, NR-P.
To learn more about Medline visit Medline.com/EMS.
Visit NAEMT to read more about EMS Day on the Hill, including the requests that were discussed with congressional leaders.

Request more info from Medline
Thank You!