PRESS RELEASE
Motorola Solutions opens innovation center at University of Illinois at Urbana-Champaign
---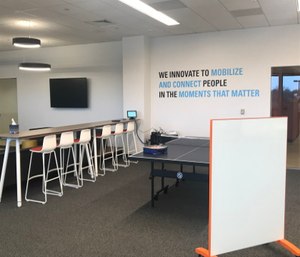 CHICAGO, IL – Motorola Solutions today announced the opening of its first college campus innovation center at the University of Illinois Urbana-Champaign Research Park.
 
The innovation center will employ undergraduate and graduate students from a variety of backgrounds and talents to focus on developing products, applications and services in key growth areas, including command center software and video security and analytics. Students will focus on projects for the company's Chief Technology Office, Advanced Technology and Products organizations.
 
"Partnering with the University of Illinois provides access to a depth of talent across a number of disciplines, encouraging research in areas that are critical to Motorola Solutions' future," said Kelly Mark, executive vice president, Services & Software, Motorola Solutions and University of Illinois alumnus. "The new innovation center will provide an opportunity for the next generation of students and employees to make valuable contributions to the company and broader tech community."
 
The new Motorola Solutions innovation and design center, located in the University's Research Park, opened in the Fall 2019 semester and has capacity for up to 40 interns with an option for full-time employees in the future. Interns and employees will work directly with Motorola Solutions staff to help move ideas to test mode more quickly.
 
"We are excited to expand Motorola Solutions' footprint to the University of Illinois, a top-tier engineering university and my alma mater," said John Kedzierski, senior vice president, Video Security Solutions, Motorola Solutions. "The university's Research Park is an incubator for new ideas and technologies, and we look forward to contributing to that culture of innovation and creativity."
 
"We are excited to welcome Motorola Solutions to the Research Park. Their presence offers new opportunities for collaborations around some of the most critical elements of our public safety infrastructure," said University of Illinois at Urbana-Champaign chancellor Robert J. Jones. "The Motorola Solutions design center is an example of our university strategic goal of establishing ourselves as a testbed for the technologies and services that will enable the safe, healthy and sustainable communities of the future."
 
The team will be managed by site director Craig Ibbotson, distinguished member of the technical staff, Motorola Solutions and computer science alumnus of the University of Illinois.
 
About Motorola Solutions
Motorola Solutions is a global leader in mission-critical communications. Our technology platforms in communications, command center software, video security solutions and managed and support services make cities safer and help communities and businesses thrive. At Motorola Solutions, we are ushering in a new era in public safety and security. Learn more at www.motorolasolutions.com.
 
About the Research Park at the University of Illinois
The Research Park at the University of Illinois at Urbana-Champaign is a technology hub for startup companies and corporate research and development operations. Within the Research Park there are 120 companies employing students and full-time technology professionals. More information at researchpark.illinois.edu. Find the Research Park on Twitter at UIResearchPark.
 
Media Contact
Brittany Kelly
Motorola Solutions
brittany.kelly@motorolasolutions.com
+1 224-246-3914

MOTOROLA, MOTOROLA SOLUTIONS and the Stylized M Logo are trademarks or registered trademarks of Motorola Trademark Holdings, LLC and are used under license. All other trademarks are the property of their respective owners. ©2019 Motorola Solutions, Inc. All rights reserved.
 
We have recently transitioned our newsroom to a new platform. As such, your logon information has changed. Please visit http://newsroom.motorolasolutions.com and login using these credentials:
Site ID: your email address
Site PW: ChangeMe1
For security reasons, please login to the site and change your password from this default value.
Click here to unsubscribe from this mailing or update your notification preferences.

Request more info from Motorola Solutions
Thank You!