NJ Metro Fire Photographers Presents "the Ultimate Firebuff Photo Weekend 2008", Highlighting Fire Photography
---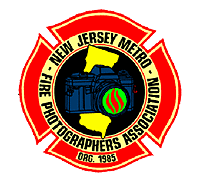 HASBROUCK HEIGHTS, NJ – The New Jersey Metro Fire Photographers Association will present their annual "Photo Night" on Saturday, May 3rd, 2008 at Passaic County Vo-Tech High School in Wayne, NJ.
There will be photo shows presented by many NJMFPA members, whose work has graced the pages of The Herald News, The Record, Star Ledger, 1st Responder Newspaper, Firehouse, Fire Engineering, Fire Chief and many other national magazines for years. In the 23 years of its existence, the NJMFPA has grown from an original membership of twelve, to a present count of over ONE HUNDRED members and growing. The membership includes volunteer and career firefighters, police officers, dispatchers, fire service magazine staff writers, and fire buffs, all with the same common interest of fire photography.
During the evening event, The Association will present their annual "Valor Award" and "Unit Citation Award" to selected heroic firefighters who performed an act of bravery in 2007. A firematic flea market and apparatus display will run in conjunction with the photo show. Refreshments will be available. The flea market will begin at 3:30 p.m. Apparatus will be on display from 3:30PM until 5:30PM. The show starts promptly at 6:00PM. Admission is $8. The high school is located at 45 Reinhardt Road, Wayne NJ. For more information call (877) 2NJFIRE or go to www.njfirephotos.com.