Is your scene lighting a scene hazard?
Compact, luminous and long-lasting, the Pelican 9490 Remote Area Lighting System (RALS) is portable and powerful enough for practically any scenario
---
Sponsored by Pelican Products
By Keith Padgett for FireRescue1 BrandFocus
Firefighters have continuously been kept in the dark, pun intended.  My wife and I purchased a new outdoor decorative fixture for the house a few years ago and when we arrived home that evening, it was getting dark. I got out of the car and I said I would hang the new fixture now and, of course, my wife said "it's almost dark!"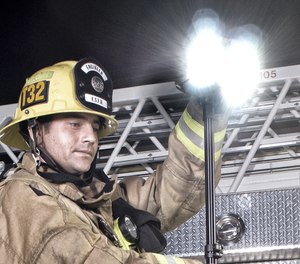 As a firefighter I don't think anything about working in a dark area or at night, as I've performed my job most of my entire career in the dark, working with some type of portable lighting. You just become accustomed to working in that type of environment and relying on good lighting. So firefighters are always seeking a better work light.
Pelican has taken this to the next level with the Pelican 9490 Remote Area Lighting System (RALS). We are all aware of the Pelican brand, and what it means as far as durability. Just as in the first hard-shell Pelican cases that we have all used for years to store anything from thermal imagers to cardiac monitors, Pelican continues to incorporate that same resilience in all its products.
Illuminate for hours
This remote light can be utilized in all types of weather conditions and provide lighting required to perform any job. With a massive 6000 lumens and a 340-degree rotational articulating light beam, the light can illuminate many emergency scenes for fire responders, making the workspace safe and manageable. The outside case is constructed of polycarbonate/ABS in a highly-visible safety yellow or it can also be ordered in black if desired.  A powerful rechargeable, 12-volt swappable powerpack has the ability to provide up to 24 hours of lighting. Yes, I said 24 hours!  There is also a free downloadable app with Bluetooth, which allows the user to operate multiple units as well as control various light output levels. The mast can be collapsed and stored, however, when expanded the light head is 72 inches tall at maximum height.
Set up with ease
Weighing in at 32 pounds it can also be easily carried from the fire apparatus to any emergency incident and setup by one firefighter. While walking to and around an event, the light can be utilized as a portable flashlight until it is required to be set up as permanent lighting at the work scene.
Many years ago, to provide temporary lighting at a house fire, vehicle extrication, or for that matter any type of emergency, you were required to have a large generator that would have been permanently mounted on the truck or might have been portable. If it was mounted on the truck you had to stretch power cords all the way to the incident from the apparatus, which quite often could be 100s of feet away, creating many trip hazards and at times even be out of reach. If you ran out of cord, there would be no light.
Then there was the portable generator – well, kind of portable. The portable generator that could be carried to the house would typically be required to operate several lights with multiple power cords spread across the entire house. It was noisy and produced toxic gas fumes that firefighters would be required to breathe while working in the area.  It normally would be in excess of 6500 watts, which is rather large and, of course, heavy. More than one firefighter has back problems from carrying a generator from the truck to the house.
The new Pelican 9490 RALS easily solves all these problems and no one gets hurt.  The Pelican 9490 RALS can be mounted and stored in many compartments on the truck because of its small size compared to a lighting system requiring a generator. Several can be placed together and powerpacks can be charged while the truck is at the fire house connected to shore power. When arriving at the scene a Pelican light can simply be retrieved from the compartment fully charged and carried by a single firefighter to any location where light is needed. There's zero need to worry about gasoline and oil for the generator or power cords to stumble over.  Just clean, reliable and quiet lighting.
Good lighting for multiple scenarios
The most common scene that requires portable lighting is a structure fire. The fire can be in a small residential house or a large commercial warehouse, and both will need lighting after the fire is extinguished. There is no other scene that can be as dark as that of a building that has had a fire in it. All the walls are now black or at least dark gray and reflect almost zero light, so a dependable bright light is a must. Responding firefighters will require good lighting for overhaul and cleanup and just being able to see inside the building to work.
Fire investigators who arrive to determine cause and origin will need good lighting to perform their job as well. The Pelican 9490 RALS can certainly provide the necessary lighting as it can be carried and set up in any room, then quickly moved to another location when desired.
The second most common emergency scene that may require great lighting is that of a motor vehicle crash with extrication. The remote area lighting system can be set up on the pavement beside the vehicle while the extrication is occurring, or it can be placed on the vehicle itself to shine down into a specific area or the passenger compartment.
There are several emergency incidents that the Pelican 9490 RALS can improve. Any type of search and rescue event, such as trench rescue or a confined space scene, may certainly call for better-quality lighting and the ability to quickly move or rearrange the light, making the Pelican 9490 RALS a no-brainer.
Other lights have struggled to perform at this level and could not provide the convenience of the Pelican 9490 RALS or even come close. Firefighters are always working in the dark and good lighting is a must for them to be successful. I would consider a new Pelican 9490 RALS to solve that problem.
About the author
Chief Keith Padgett serves as the Fire and Emergency Medical Services Academic Program Director with Columbia Southern University within the College of Safety and Emergency Services. A 38-year member of the fire service, Padgett previously served as fire chief of the Beulah Fire District in Valley Alabama and as the chief/fire marshal for the Fulton County Fire-Rescue Department in Atlanta.

Request information from Pelican Products
Thank You!