The Vulcan Clutch: Taking portable lighting to new heights
The clamping handle and 340-degree rotating head light offers high-quality lighting in more places, under more conditions
---

By Robert Avsec
When Streamlight brought its Vulcan line of portable hand lights to the fire equipment market, it was a ground-breaking advancement in portable hand lights for use by firefighters and EMS personnel.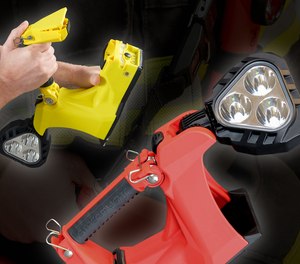 The rechargeable and waterproof Vulcan hand light gave firefighters a personal lighting device with a 180- degree articulating head that used three C4 LED bulbs within deep-dish parabolic reflectors to produce a tight beam with optimum peripheral illumination. Its rechargeable 8800 mAh Lithium-Ion battery, combined with optimized internal electronics provided regulated intensity – gave users high quality light for 4 ¾- hours on its high setting and 12 hours on its low setting.
The latest addition to the Streamlight line of portable lights for firefighters and EMS personnel is the Vulcan Clutch and it builds upon the Vulcan brand in a big way. The Clutch comes with a 340-degree rotating light head to give firefighters and EMS providers high quality lighting in more places under more operating conditions. But the must-have feature that speaks to the work that firefighters and EMS personnel do is the Clutch's clamping handle.
The Clutch's clamping handle lets the user hang it from a ladder or clamp it to the top of a door. The possibilities are only limited by the user's imagination. Once the Clutch is where the user needs it, the full range of its rotating lamp head is ready to light up the workspace enabling them to do their critical work safer, more efficiently and more effectively regardless of where that work needs to take place.
But the Clutch's lamp head can also be stowed to present a 20-degree downcast for better footpath lighting when the user is on the move (e.g., during ground searches or wildfire suppression). Two ultra-bright blue taillight LEDs – that can be programmed for on/off or flashing mode – make certain that the user can be seen, even in thick smoke, and that helps increase the level of crew integrity. With its built-in battery status/charge indicator, the user never has to worry about the Clutch's power supply leaving them in the dark.
The Clutch's Vital Statistics
Firefighters and EMS providers work under all sorts of conditions, and they need a portable hand light that works just as hard and performs just as well as they do. The Clutch's three white LEDs produce a far reaching, high-lumen beam with two power settings:
High Setting: Produces a 1706-foot (520 m) beam at 1,700 lumens, with 67,500 candelas (luminous intensity) for up to 6 ½-hours of use.
Low Setting: Produces an 804-foot (245 m) beam at 380 lumens, with 15,000 candelas for up to 18 hours of use.
The Clutch's rechargeable lithium-ion battery not only provides long duration lighting, it quickly rebounds before the next job; a fully depleted battery recharges in five hours. And the good news is, that if a fire and EMS department is already using hand lights in the Vulcan series (e.g., LiteBox, Vulcan, and Vulcan 180 series), the Clutch's Quick Install charge rack fits the same footprint as those legacy charging systems.
The Clutch is available in two models:
The Standard Clutch System. Comes with a Quick install charging rack, AC/DC charge cords; the orange-colored model includes a quick release shoulder strap and the yellow model includes heavy duty strap.
The Clutch Vehicle Mount System. Includes the Vulcan Quick install charging rack along with a 12V DC direct wire cord for connection to the onboarding charging system of fire apparatus or ambulance.
Built for the Fire and EMS work environment
The Clutch's high-impact, super-tough nylon construction makes it rugged, too. In testing for dust penetration and waterproofing, the Clutch earned an IPX7 rating, meaning it's waterproof up to 1 meter (3.4-feet) for 30 minutes – that's what the 7 indicates. (The Clutch was not rated for dust penetration, and that's indicated by the X). During compliance testing, the Clutch remained operational after a drop of 2 meters (6 ½-feet) on to a concrete surface (Impact resistance test).
With the Clutch, firefighters and EMS providers get all that in a hand light that's 9.39 inches (23.85 cm) long, 4.60 inches (11.68 cm) wide, 6.40 inches (16.26 cm) high and weighs in at 2.84 lbs. (1288 g) with its battery.
As with all its products, Streamlight warrants the Vulcan Clutch to be free of defects for a lifetime of use except for batteries and bulbs, abuse and normal wear. The company will repair, replace or refund the purchase price of its product should they determine it to be defective (This limited lifetime warranty also excludes rechargeable batteries, chargers, switches and electronics which have a two-year warranty with proof of purchase).
With all those features going for it, your fire and EMS department should consider adding the Vulcan Clutch to its portable lighting equipment supply.

Request information from Witmer Public Safety Group, Inc.
Thank You!