This upgraded helmet-mounted light from Streamlight goes the distance
With long-life lithium batteries, the Red Vantage II helmet-mounted flashlight can keep going as long as you do ─ while supporting a good cause
---

By Robert Avsec for FireRescue1 BrandFocus
The ability to see what they are facing and clearly show what needs to be done is critical for a firefighter to do their job safely, effectively and efficiently. Whether it's inside a working structure fire conducting a search for a potential victim, a complex extrication of a patient from a motor vehicle crash or participating in a nighttime ground search for a missing child, the ability to "shine a light where it needs to be" is something every firefighter needs and appreciates.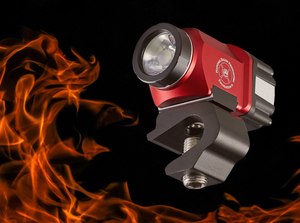 When Streamlight introduced the Vantage helmet-mounted light, it was a watershed moment in emergency operations. The Streamlight Vantage, with its waterproof, chemical-resistant anodized aircraft aluminum body, high-impact, engineering-polymer LED housing, and high-temperature, shock-mounted, and impact-resistant Boro Float glass lens proved to be the "right stuff" for firefighters who used it.
But that wasn't all. TheFireStore and Streamlight pledged to donate $3.00 to the National Fallen Firefighters Foundation (NFFF). Those donations, made possible by firefighters buying the Streamlight Vantage, helped the NFFF to be effective in rebuilding the lives of surviving families and affected co-workers of fallen firefighters all over the country.
Since then, the Streamlight Vantage and its successor, the Streamlight Vantage II line of products have gone on to become the "go to" lighting choice for firefighters who want the high-illumination capability of a handheld light but in a helmet-mounted unit that keeps their hands free for the job at hand.
Now, Version 3.0, the Streamlight NFFF Red Vantage II with TheFireStore Logo (Red Vantage II), is now available and it builds on the reputation earned by its predecessor. (And for every Red Vantage II sold, TheFireStore and Streamlight will continue the Streamlight Advantage tradition by donating $3 from each light bought to the NFFF).
Red Vantage II has the same features that have made Streamlight's helmet-mounted lights a leader in supplying hands-free lighting tools for the fire service. The key question for any firefighter is "How much light does it deliver?"
Quick Primer on Lighting
Lumens measure how much light you are getting from a bulb. More lumens mean it's a brighter light; fewer lumens mean it's a dimmer light. Lumens are to light what pounds are to bananas or gallons are to milk [1].
Candela is another word for candlepower. (Candlepower measurement is from times when the candle was the primary source of illumination.) One candela is approximately equal to the light that a candle with specific dimensions produces [2]. 
Don't know the difference between lumens and candela? No worries. Let's look at a comparison between a pencil torch and an incandescent bulb. Because the torch projects its light in a single direction as a high-intensity beam, it has a high candela value because it concentrates its light into a single point [3]. Nice to have when you're trying to illuminate a very small area.
In contrast, the incandescent light bulb has a low candela value but a high lumens value because it emits a greater amount of light spread over a larger area than the pencil torch [4].
What the Red Vantage II Brings to the Table
For starters, with its C4 LED ─ a quantum leap over second-generation LED technology ─ the Red Vantage II is almost three times brighter than high-flux LEDs. (Its C4 premium LED is 7 to 10 times brighter than first generation LEDs still used in many other flashlights today, while consuming less power.)
For firefighters ─ for whom results are everything ─ the Red Vantage II delivers, with a light far more powerful than any LED before it, and extended runtime that firefighters need in an unpredictable fire or rescue situation.
The Red Vantage II has two operational modes ─ High and Low ─that give a firefighter lighting options. In High Mode, the light provides a firefighter with 350 lumens (for the big areas that need lighting) and 3,500 candelas (the Red Vantage II's custom optic produces a quality narrow beam of light 387 feet (118 m) while still supplying best peripheral illumination). When used in the High Mode of operation, the Red Vantage II can supply continuous light for 2 ¼-hours.
When a firefighter needs to have good illumination over a longer period, switching to the Low Mode of operation provides 135 lumens with 1,700 candelas and produces a beam of 260 feet (80m), for up to 5-hours.
Long-Life Lithium Batteries
Without power, even the best helmet-mounted light is of little value on the emergency scene. And that's where the Red Vantage II really shines using a single CR123 lithium battery to consistently provide the power you need when you need it. (You can carry a set of spares in any pocket and change batteries in under a minute.)
Simply open the back of the Red Vantage II, switch out the battery, and snap the back on without taking the light off the helmet. And because the lithium batteries have a storage life of over 10 years and are not affected by extreme temperatures, they provide a convenient and extremely reliable source of power.
Beyond Illumination and Power
In addition to its illumination and power capabilities, the Red Vantage II comes with many other features that make it an indispensable piece of equipment for firefighters. Some of those key features include: 
It's compact, with a length 2.37-inches (6.01 cm), and lightweight at 3.65 oz. (103.5g).
An IPX7 rating that means that the Red Vantage II is waterproof when submersed in water at a depth of 1m (3 ½-feet) for 30 minutes (more than enough to ensure it continues to function even in the often-wet work environments that firefighters find themselves working in).
A durable, anodized aluminum construction that's rated to withstand being dropped 1m onto a concrete surface and still function, ensuring that the Red Vantage II's primary LED will not break or burn out over its projected 50,000-hour lifetime.
An ultra-bright blue LED safety taillight that lets your fellow firefighters see you when they're following or searching in low-light environments ─ even in a smoke-filled room. 
A "Safe off" feature that prevents accidental activations, thus conserving battery life.
Solid State power regulation that ensures maximum light output throughout the light's battery life.
An integrated mounting bracket that ensures your helmet is still compliant with the requirements of NFPA 1971-6.4.8 (2018 edition) that states "For helmets with items installed or attached, the helmet with the items installed/attached shall meet the affected design and performance requirements of this standard."
With all that going for it, and that your purchase of a Red Vantage II sends a $3 donation to the National Fallen Firefighters Foundation, shouldn't you have a Red Vantage II helmet-mounted light on your helmet?
References
1. Understanding Lumens - Welcome to Divine Lighting, https://www.divinelighting.net/pages/lumenschart.php
2. Ibid.
3. Which Is More Important Lumens Or Candela? – ameliadanver.com, https://ameliadanver.com/which-is-more-important-lumens-or-candela/
4. Ibid.

Request information from Witmer Public Safety Group, Inc.
Thank You!