PRESS RELEASE
Nashville Fire Department takes delivery of 50 Command Light Trident Tripods, with more to go
---
NASHVILLE, Tenn. — The Nashville Fire Department took delivery of 50 Command Light Trident Tripods, marking Command Lights' largest tripod order to date since the Trident's 2022 launch. Serving the city of Nashville and a 700,000-person county with 40 stations, the department opted to spec the T40D-CH-BD tripod with FireTech Helios and DeWalt FLEXVOLT batteries. Following this initial order, Command Light will deliver another eight tripods in October thanks to a second smaller order.
Manufactured by Command Light, a leader in emergency vehicle lighting, the Trident Tripod is the only tripod on the market that lets departments choose their power source, plus favorite firefighter LED. Among the choices: AC Power, Truck 12V DC or one of four different nonproprietary battery options with Akron Revels, FRC Spectras, FireTech Helios, Whelen Pioneer Plus or a Feniex Arrow Stick.
"With a choice of DeWalt, Makita, Milwaukee or HURST battery platform, our tripod has become extremely popular because of its compatibility with other battery-operated tools in the industry," Command Light Regional Sales Manager Wilkins said. Command Light, a subsidiary of Super Vacuum Mfg., has expanded on Super Vac's popular non-proprietary battery fan design with the Trident Tripod, and this Nashville order is only a small indication of anticipated demand.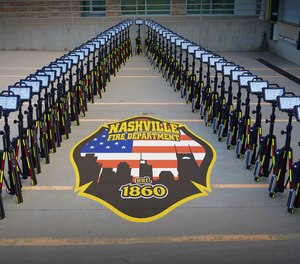 "We want to thank the Nashville Fire Department for trusting Command Light with this order," said Wilkins, who assisted Command Light dealer NAEFCO in making the sale. Nashville's pairing of FireTech Helios with DeWalt FLEXVOLT 12Ah batteries delivers a tripod runtime of 175 minutes at 14,000 lumens.
The Trident is available in 24 DC models and 16 AC models, depending on LED fixture and tripod height (40" or 50"). Each DC tower can be spec'ed with additional options, like shore power, 12V DC truck power and truck mounting brackets with disconnect. When deployed and extended, the 50" Trident Tripod features a 91" reach.
"Historically, Command Light has been known for its patented light tower, and while we still believe every truck should be equipped with this important piece of equipment to illuminate a scene, we know mobile lighting is important as well," Command Light Owner Roger Weinmeister said. "We're truly humbled Nashville has partnered with us to fulfill this need."
About Command Light
Command Light, located in Fort Collins, Colo., has specialized in scene lighting for the emergency industry for more than 25 years and features only the best light towers, compact scene lighting, traffic flow boards and other safety lighting products. Command Light's towers are available in a variety of configurations, including AC or DC, different tower bases, varying output choices and a long list of options, like backlighting to illuminate both sides of the scene.
Request more info from Command Light
Thank You!