PRESS RELEASE
Ranger Boats Selects Rigid Industries LED Lighting as Upgrade Package Offering
---
Phoenix, AZ – December 3, 2014 - Rigid Industries® LED Lighting, the world's leader in forward projecting LED lighting via its patented optic systems and torture-tested housing, announces a new partnership with Ranger Boats, who will offer Rigid's LED lighting package for its flagship Z500  Comanche Series tournament fishing boats in 2015. 
The unique Rigid Industries LED Lighting package consists of six A-Series LED lights strategically located on any Z500 Comanche model, giving anglers a competitive advantage, unique aesthetic appeal and the rugged durability to withstand even the harshest conditions.  
"This partnership will allow Anglers the latest in LED lighting technology installed at Ranger Boats.  By providing new and innovative Rigid Industries products at the factory, Ranger's customers hit the water running with a premium level of safety and functionality. says Dave Davis, VP of Sales at Rigid Industries.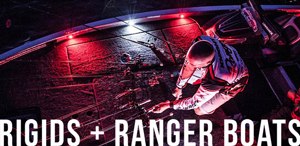 "The new Rigid light package allows me to better prepare for my tournament day without the headaches of using a handheld flashlight or headlamp," said Ranger Boats Pro Angler and Rigid Industries Torture Team Member, Brett Hite. "Couple that with the Rigid backup lights on the trailer and darkness is no longer a hindrance to an early morning takeoff." 
Rigid Industries A-Series LED Accessory Lights might be small, but it packs a punch. Available in two options, high or low power, the A-Series is extremely versatile. Whether it's used as a dome light in your truck, a deck light on your boat, or navigation lights on your trailer, the A-Series is the perfect accent light for any application! The A-Series accent lighting solution includes multiple mounting options and is available in multiple LED colors - red, blue, green, and three shades of white - to suit your needs.
About Ranger Boats: Headquartered in Flippin, Ark., Ranger Boats is the nation's premier manufacturer of legendary fiberglass and aluminum fishing boats, which include series of bass, multi-species, fish 'n play, waterfowl utility and saltwater boats. Founded in 1968 by Forrest L. Wood, Ranger Boats continues its commitment to building the highest-quality, strongest-performing boats on the water. For more information, go to RangerBoats.com.
About Rigid Industries®
Thanks to its unparalleled patented Hybrid™, Specter™ and Hyperspot™ optics and its torture-tested housings, Rigid Industries® is a world leader in the forward projecting LED lighting industry. Rigid Industries® ranked 316th on the Inc. 500 list for 2014 and ranked as the fastest growing off-road LED lighting manufacturer in America. Rigid LED lighting products can be used in a plethora of applications across industries such as: agriculture, construction, emergency response, industrial, marine, military, mining, and, of course, off-road and power sports. Rigid Industries® is committed to providing top-notch, innovative technologies and always guarantees a quality product which has been designed, engineered, and assembled in the USA. For more information and a comprehensive list of products, visit http://www.rigidindustries.com or follow the company on Facebook, LinkedIn, and Twitter.

Request more info from Rigid Industries
Thank You!