How incident management software streamlined operations for a Md. PD
The Montgomery County (Md.) Police Department deploys Incident Response Technologies' Rhodium™ incident management software
---
The following is paid content sponsored by Incident Response Technologies (IRT) 
By FireRescue1 Staff
Officer Jason Huggins of the Montgomery County (Md.) Police Department needed incident management software to address the growing data management requirements of multi-resource incidents.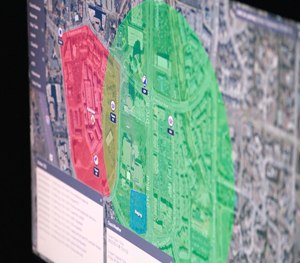 "The speed at which information and intelligence comes in during complex operations led us to look for a comprehensive digital platform," Huggins said.
The police department turned to the Rhodium Incident Management Suite, software produced by Incident Response Technologies. The Rhodium™ Suite helps Jason manage rapidly expanding, long-duration incidents, with multiple agencies involved. 
The Rhodium™ Suite provides a scalable command-and-control solution with Web-based access from most any device, including Mac- and Windows-based PCs, iPad and Android tablets, and smartphones.
The Rhodium Suite also can be interfaced with a customer's computer aided dispatching systems for seamless sharing of incident and resource status data.
How it works
The Rhodium™ Incident Management Suite offers a myriad of field applications and can be used to manage day-to-day incidents and events of any type or size, as well as organizing pre-plan data by building, address or call types.
This can be done by dragging-and-dropping units into an org chart, building diagram or other customizable background images.
For example, a map can be used to view resources geographically, while a chart displays them organizationally and mapping layers display other situational awareness data.
In the Field
The Montgomery County Police Department uses the Rhodium™ Incident Management Suite in many types of operations, including search-and-rescue and SWAT operations.
Recently, Rhodium was used to assist in searches where there were multiple agencies on-scene to assist.
"We utilized Rhodium on a search along the Montgomery County/Howard County border for a suicidal subject," Huggins said. "Circumstances required the use of SWAT resources to conduct an initial sweep prior to a more through coordinated search of the area."
Huggins said by using Rhodium they were able to create electronic maps showing areas that had been cleared and needed to be search.
"We were then able to pass on those electronic maps in real time on to the different agency representatives to ensure a thorough search was conducted, ultimately leading to the discovery of the subject," Huggins said. 
The department recently began using the software suite's robust pre-planning tools. The software supports pre-planning, such as mapping out buildings, call types and special events as well as accessing and creating custom fields, file attachments, ICS forms and checklists based on a user's needs.
The Montgomery County Police Department chose the Rhodium Incident Management Suite because of its robust feature set. Rhodium's affordable pricing model made the purchase easy, and it has paid off, as Huggins states that the department uses the software on an average of 150 incidents per year.
Huggins said the company helped train their organization and the software can be adapted for multiple needs in multiple agencies.
Also, the customer service was phenomenal. "We appreciated IRT's willingness to work with us in adapting the software to meet our specific needs," Huggins said.