How Streetwise CADlink's tablet-based solution helped Pensacola FD coordinate its responses
From routine to unusual calls, tablet-based software has helped department manage its resources
---
The following content is sponsored by Streetwise CADlink
Background:
The Pensacola Fire Department in Florida has been serving its residents since 1810, covering an area of 26 square miles, with a daytime population of nearly 100,000, over a mixed area ranging from dense urban to suburban. FireRescue1.com recently spoke with Lt. Jarrod Gruber about a problem his agency had long faced around coordinating responses and other efforts, and the remarkable solution that is now in place. Read on to find out more – their experience could benefit your agency as well.
Challenge:
Over the years, like many other fire agencies, Pensacola had laptops deployed on its apparatus. Although a good step in the right direction, the laptops were unsuccessful due to many factors. These include the use an operating system that was not natively mobile (like Android, for example), the requirement of a VPN connection that frequently dropped, and the fact that you practically had to be an IT professional to restore the connection if it went down.  Of course, after only a few occurrences of the laptops not providing critical information when it was needed most — during a response — the apparatus company officers quickly gave up on them. As a result, the laptops ended up being used more often as armrests than as computers.
"When I was first promoted to lieutenant," Gruber says, "I was moved to an area that I wasn't familiar with, acting as the captain for the station. Fortunately, in the 1970s and '80s this station's firefighters had created a literal 'recipe box' full of cards for every street in their service area, with hand-drawn maps showing how to get to each address from the station. That was how I navigated for the day, and it was a real life saver."  
Gruber bought a GPS on his own after that day, and figured out how to import hydrant locations from the city's GIS system. Soon, other company officers were asking for him to do the same for them, and he realized that the department had a real need for a centralized solution that was more than just an ad-hoc import of important information into a consumer device.  
With a background in IT as well, Gruber was about to begin writing his own mobile app, when he came across the Streetwise CADlink solution. "They were doing everything I wanted to do with the app, and a lot more," he says.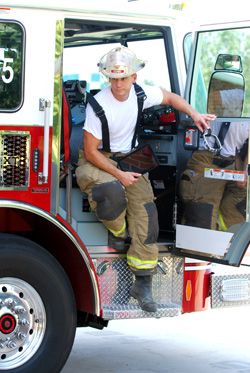 Solution:
"When we started looking into the costs of Streetwise CADlink, we found them really appealing," Gruber says. "We're talking about a quarter of the price of a laptop per tablet device – the solution runs on your own choice of Android tablet – and the tablets can be moved around easily, taken out of the apparatus if needed while on a call or for doing fire prevention/administrative work – the software combines response information with a full-featured pre-incident plan solution.
"It also meant that we could put a lot more devices out there for our guys to use. The chief was very impressed with the demonstration of all of the features of the solution, and from there we bought some tablets and began rolling out. Since this was a new solution for us, we put a lot of time into pre-testing with our existing CAD and GIS systems, especially – about three to five months' worth – to make sure that it would integrate well into what we did. We were one of the first departments to adopt the Streetwise CADlink, and found that it did everything we needed it to and more over the course of that testing period.
"As far as the reception by our personnel, it was about what you'd expect in the fire service. In the beginning, I knew that some of our guys were going to push back, and that's what happened – at first. Within three months of us actually getting our training going and getting the devices out there, however, those same guys are now fully using the product every shift, on every response – it's made that much of a difference."
Results:
"It's made a significant impact on everything we do day to day," Gruber says, "from routine calls to the more unusual situations we run into. One of the coolest things we've been able to do now is have one of the tablets on our fire boat – since all other users within our agency can see the location of other responding units on their own tablet, it's enabled our battalion chiefs to see exactly where that resource is and better direct the response to incidents which need it.
"That location awareness has also helped our agency when responding to structure fires – much better since we can see all of the units responding in real-time on a map as well as also hydrant locations nearby, meaning we can direct them to where they need to go based on where they're coming from. But it's also been useful in at least one instance that I'm familiar with when we were responding to a medical call in a wooded area. The fire crew was able to take their tablet with them into the woods to the patient location, sharing their location with the responding Battalion Chief and EMS crew, eliminating the need to verbally direct them.  
"On that last note, from a USAR-type approach, you can also drop markers on the map with notes that others can see as well – meaning that we can designate information about certain areas, for example  what's been searched or not searched, and what was found there, if anything. From a pre-planning standpoint, that's incredibly valuable in situations where a location might have special considerations, such as a manufacturing facility – we can access that information as we respond to better be ready for what we'll be facing on arrival.
"As I mentioned, the tablets we chose – and again, it was completely our choice as to which Android tablet we wanted to pick – fit into the bunker pocket on our turnout gear. What that's enabled is a lot more safety on scene, and a better-coordinated response: the location of the tablet, and not just the apparatus – which might be parked miles away – is shown on-screen, meaning that other units know exactly where we are."
Conclusion:
With the Streetwise CADlink solution, the Pensacola Fire Department has brought a broad variety of efficiencies and safety considerations into real-world, real-time use, on a daily basis in multiple areas of its core mission. "It's true that we have a proud tradition dating back to 1810," Gruber says, "but we're also actively technology-forward in our pursuit of getting the best possible tools for our personnel to be able to use when serving our citizens. We maintain our history with pride, while using modern IT, CAD, and GIS, to augment the best practices learned over time and move them forward into the best practices of the present and future."
____
To request a FREE, live demonstration of Streetwise CADlink, click here now