PRESS RELEASE
Adashi Systems announces partnership with RapidSOS to provide enhanced data to emergency responders
---
Integration with RapidSOS transfers detailed incident information directly to in-vehicle devices
BALTIMORE, Md. — Public safety technology provider Adashi Systems recently announced its partnership with RapidSOS – an advanced emergency technology company.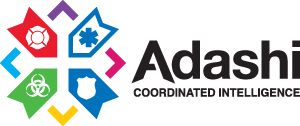 As part of its complete incident management platform, Adashi supplies mobile data terminal (MDT) and incident command software to public safety agencies worldwide. The Adashi platform gives responders access to mission-critical information as they respond to and manage incidents, accessed via integrations to computer aided dispatch, records management systems, and other key sources of incident data.

RapidSOS's NG911 Clearinghouse links millions of connected devices to 911 and first responders. When citizens call 9-1-1 from a RapidSOS-enabled connected device (wearable, home security system, smartphone, connected car, etc.), the user's precise location, type of emergency, medical and demographic data, and various forms of additional data are captured in the NG911 Clearinghouse and transmitted to 911 and first responder systems.
With the RapidSOS NG911 Clearinghouse integration, responders using the Adashi platform will be able to view all the information listed above on their in-vehicle devices as they respond to the call, providing them with enhanced situational awareness to get to the incident efficiently and make informed decisions on-scene.
"This capability helps public safety staff respond to and manage incidents more effectively," said Sanjay Kalasa, President of Adashi Systems. "With this integration, crews can respond faster with the critical information they need to create a coordinated, intelligent response, helping save lives and limit property damage."
"We are thrilled to partner with Adashi Systems to ensure that responders have the vital information they need to handle any emergency," said Michael Martin, CEO of RapidSOS. "This partnership gives first responders access to unprecedented data that can improve emergency response and save lives."
About Adashi Systems 
Adashi Systems LLC is a leading provider of technological solutions to public safety agencies worldwide. Founded in 2004, Adashi Systems has developed a full suite of products to aid first responders in the staffing, notification, response, management, and reporting of critical incidents. Adashi's full suite of products work together to give public safety agencies an end-to-end tool to handle every stage of the incident life-cycle. Learn more at www.adashi.com.
About RapidSOS
RapidSOS is an award-winning emergency technology company that builds transformative technology to save lives. Partnering with Internet of Things (IoT) companies and the public safety community, RapidSOS provides a rich data link to public safety – sending lifesaving data to aid in emergency response. By analyzing data around when and where emergencies are occurring, RapidSOS is developing technology to predict and preempt emergencies and dynamically warn people in harm's way – a complete paradigm shift from emergency response to emergency prediction and preemption. Learn more: www.rapidsos.com.

Request more info from Adashi Systems
Thank You!