Entry tool system lets firefighters enter with minimal effort or damage
When leaving the scene, the first responders are able to secure the door with only minor repairs after using the BlocHead device
---
BlocHead Gear unveiled a patented entry tool system designed for first responders to quickly gain access to locations with minimal effort at the SEMA Show in Las Vegas.
The device claims to opens oval and euro profile cylinder locks in less than 30 seconds. When leaving the scene, the first responders are able to secure the door with only minor repairs after using the BlocHead device.
The BlocHead tool weighs 6.5 pounds, it's 24 x 12 x 5 inches, and is made of steel and coated in black oxide.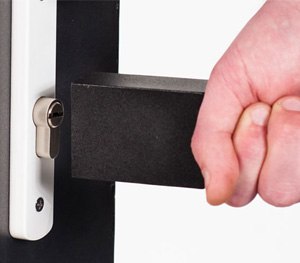 It includes a 1.7 pound T-grip Actuator designed to actuate locking mechanisms.
The BlocHead tool and T-grip Actuator cost a total of $400.
For more information, visit www.blocheadgear.com.