First responders, are your families ready for a disaster?
These 3 actions will help prepare your family in case of a natural disaster, so that you are able to help others
---
In case of a severe weather disaster, my village's fire department has a back-up generator used for power, mutual-aid agreements with surrounding communities, plans to distribute fire apparatus around the village, and the practice of activating members to stand by at the station.
If our community's roads, power lines, homes and commercial structures are badly damaged by severe weather, the department is ready to assist with clearing debris and making our community safe for its citizens. All this planning is contingent on individual responders actually being able to leave their homes, businesses and families. To that end, the fire department has offered training to help our families prepare for a natural disaster. 
If my family is safe with shelter, water and food, I will be able to serve the needs of my neighbors.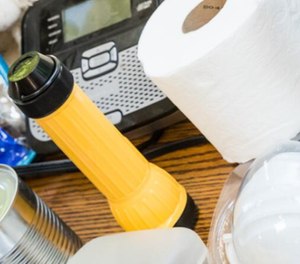 Take the following three actions to help prepare your family, so you can deploy with your department during a prolonged natural disaster response:
Help your spouse, partner and family prepare mentally, emotionally and physically for your absence once you are deployed for 12 hours, 24 hours or longer. View this family disaster planning brochure from the American Red Cross.
Pre-determine several meeting locations with your family if your home is destroyed while you are away or separated. My family has planned several rendezvous points in our neighborhood, our community, and our general region.
Prepare a disaster supply kit of water, food, medicine, clothing, bedding, communication devices, and other necessities.
Include these items recommended by Ready.gov in your disaster supply kit:
Face masks for everyone ages 2 and above, soap, hand sanitizer and disinfecting wipes
A 3-day supply of non-perishable food (don't forget a manual can opener)
Water (one gallon per person per day for at least three days)
Battery-powered or hand-crank radio
Flashlight
First aid kit
Extra batteries
Whistle (to signal for help)
Moist towelettes, garbage bags and plastic ties (for personal sanitation)
Wrench or pliers (to turn off utilities)
Local maps
Cell phone with chargers and a backup battery
Prescription and non-prescription medications
Plan ahead for your family's particular needs (consider infants, pets, important documents you may need) and find more information on family preparedness for disasters by visiting Ready.gov.
Want a copy of this disaster supply preparedness kit checklist to keep with your supplies? Fill out the form below to download a printable checklist.
Additional Resources
This article was originally posted in June 2020. It has been updated with new information.