Nightstick unveils new, rechargeable dual-light
Waterproof and rechargeable, the flashlight is capable of reaching 650 lumens output
---
Nightstick has recently introduced the NSR-9920XL, powered by a CREE LED with 650 lumens output.
When paired with a high-efficiency, deep parabolic reflector designed for distance illumination, the result is a beam the distance of over 902 feet.
The flashlight can be used independently or in tandem with the 600 lumen unfocused floodlight (which achieves 650 lumens when used in tandem).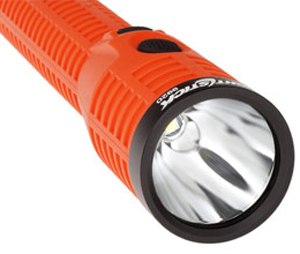 The flashlight body switch provides momentary or constant-on functionality, along with the ability to choose between high, medium or low brightness settings. It also offers a disorienting strobe option.
Nightstick's NSR-9920XL has an IP-X7 waterproof rating, is serialized for personal identification, and is powered by a lithium-ion rechargeable battery.
It's built with high-visibility red glass-filled nylon polymer housing and integrated powerful tail-cap magnet in the base.
For more information, visit Nightstick's website.