Spartan ERV expands wildland product line
The Wildland MPT allows a fire department to configure components, systems or functionality across a number of firefighting scenarios
---
Spartan ERV recently introduced its Wildland MPT (Mini-Pumper Trooper) configuration.
Compact in size, the new configuration provides customizable designs and the ability to pump and roll with Rapid Compressed Air Foam System (CAFS) while carrying 500 gallons of water.
All truck functions operate through the single chassis engine, instead of using an additional power source. With water pump, compressor; and foam system componentry located under the 8-foot flatbed deck, the Wildland MPT features a lower vehicle profile and overall lower center of gravity.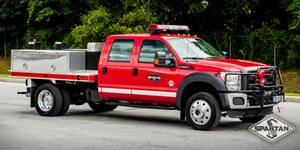 Spartan ERV's new Wildland MPT product line offers two customizable 23" x 23" x 6' storage compartments, a programmable control console; and the option of a heavy-duty turret or winch attachable to the front bumper. 
The configuration includes a chassis sized for a Ford F-550 4x4 or Ford F-450 4x4 with single, club or crew cab.  It offers a PTO-driven Van Air 200 CFM Compressor with an interior or exterior controlled Hale HP100 pump and 2.1A Foam System.
There are two 1/2" pony suction inlets and two 1/2" tank to pump inlets. A 1/2" left-side preconnect and 1" tank fill discharge are also included.