Tools for responders get more rugged
Pelican Products displays two durable tools at Fire-Rescue International
---
By Erin Hicks
FireRescue1 Staff
Pelican Products showed off two of their newest products at Fire-Rescue International in Chicago.
Introduced to the market four months ago, the 9410 LED weights 3 pounds and is one of the lightest and brightest handheld LED lanterns around, with a beam intensity of 710 lumens on high mode.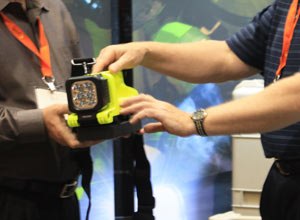 It has a water-resistant switch and a tough polymer construction that makes it not indestructible — but close.
The lantern is designed to stand on one end and can be rotated 120 degrees to illuminate a greater work area. Powered by Nickel Metal Hydride rechargeable battery technology, it can run more than 4 hours on low mode and 2 hours on high. The switch illuminates green, amber, and red to show you how much battery life you're working with.
"The 9410 LED Lantern is an advanced lighting tool formulated for first responders who work in extreme environments and depend on their equipment to keep them safe," Sharon Ward, Pelican Products Spokesperson, said.
Pelican introduced the 1460 EMS Case, released in the spring to hold medical supplies. Portable, it features a three-level, customizable tray system that lifts out of the case for easier access.
"It will keep life-saving medical supplies protected and secure so that EMS professionals can concentrate on patients and not whether their supplies will arrive in one piece," said Ward.
Pelican Products is a global manufacturer of advanced lighting systems, rugged protector cases and shipping containers. You can find them on the web at www.pelican.com.