UK city rolls out piercing tools on rig, hand lines
The biggest fire truck in the U.K. comes with a piercing nozzle, as does a newly supplied super-hose that allows crews to tackle a blaze outside a building
---
MANCHESTER, England — Firefighters in this northwestern English city will now be able to do their jobs more effectively and safely with a newly supplied fire engine and cutting-edge hand line tool.
Firefighting equipment manufacturer Rosenbauer UK delivered the advanced technology fire truck to the Greater Manchester Fire and Rescue Service.
The fire truck features a "Stinger" package able to deliver over 1,500 gallons of water a minute and throw over 100 yards, Examiner.co.uk reported. The tip of the Stinger also carries a piercing tool able to penetrate industrial buildings and windows to enable water and foam to be pumped into the structure.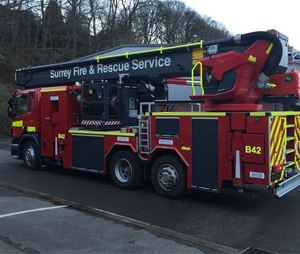 The rig will be the lightest combined unit in service in the UK, will have cutting-edge infra-red technology, plus a revolving staircase for the crew to mount and dismount the crew cab as safely as possible.  The rig is also the biggest and tallest aerial in the UK, which goes up to 130 feet in the air.
Manchester firefighters are also using a super-hose that's so powerful it blasts water through a brick wall. 
The Cobra system, developed in Sweden, shoots a jet of water loaded with an abrasive cutting substance to blast a thumbnail-sized hole in the wall. Water is then injected through the hole as a high-pressure mist to absorb the heat and gases from the fire.
This allows firefighters to tackle the fire from outside rather than entering a burning building, Telegraph.co.uk reported.
Cobra will be transported in a small fire truck, which will help firefighters take it to locations that involve going down narrow roads.
"It not only improves safety but because the hole created is so small, no oxygen is admitted to the fire which dramatically boosts the firefighting effect and reduces any potential backdraft," Barry Doughty, cabinet member for the Fire and Rescue Service, said.