5 reasons to consider switching to premixed drugs
Manufacturer-prepared premixed drugs can save time and minimize admixing errors
---
The following is content sponsored by Baxter Healthcare Corporation
By EMS1 BrandFocus Staff
Important Risk Information | Prescribing Information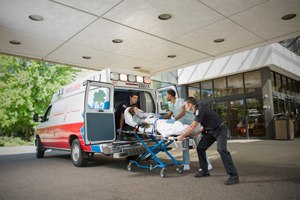 To premix or not to premix, that is the question. When it comes to administering drugs, paramedics have several options. Generally, these options fall under two categories: premixed or pre-prepared drugs and those stored in vials or other containers to be mixed at the time they are needed.
Many paramedics mix drugs at the time they are needed, which can be problematic in an emergency situation where time can be an issue.
In a case where a patient with frequently recurring ventricular fibrillation (VF) and hemodynamically unstable ventricular tachycardia (VT) refractory to other therapy, a paramedic, under the guidance of a physician, may consider using a drug like amiodarone.  An accurately prepared dose, like NEXTERONE (amiodarone HCl) premixed injection, ready in a premixed package, may cut down on the time between determining the course of action and providing treatment.
Scroll down for Indication and Important Risk Information on NEXTERONE. Please see full prescribing information here.
In fact, there are several other reasons agencies should look into using premixed drugs in their fleet. Here are 5 reasons to consider switching to a premix: 
1. Ready to use at a moment's notice

One benefit of using premixed drugs is that they are ready to use at a moment's notice. When every second counts, not having to mix the drug on the spot is time that may be used to perform other patient related tasks. 
2. Reduction in medication errors related to admixing
The Institute for Safe Medication Practices (ISMP) suggests[1] the use of commercially-prepared, premixed IV products whenever possible to promote safe medication administration practices. A premixed drug is already prepared, and as a result, there is no need for admixing.  Having premixed versions of drugs may help reduce admixing errors. Admixing has been shown to lead to errors 9% of the time, with 2% of those being potentially clinically significant[2].
 With premixed drugs, there is no admixing, which may help reduce the risk of contamination. Paramedics do not have to worry about the frothing, bubbling, waste or broken vials that sometimes accompany mixing drugs at the time of use. 
3. Ready when you need it
Another important feature of premixed bags is being ready when you need it. Having premixed varieties of drugs available—in the quantities you need—can reduce time to administer in the field. Not having to admix is one less thing to worry about in an already hectic situation.

Premixed drugs are typically available in the most common doses necessary, and generally have an extended shelf life, as opposed to admixed drugs which can have a shelf life measured in hours.
4. Premixed drugs may save time as compared to admixing

Premixed drugs offer you the opportunity to provide a patient with the treatment they need, streamline processes and help create efficiencies in the field. 
5. Premixed drugs are standardized

Standardization provides less variation in specific tasks such as drug administration. There is a reason processes are codified and protocols are standardized. Premix products provide paramedics a product that is readily available and is the same manufacturer-prepared product each time offering standardization. A standardized option offers paramedics the same premixed dose ready and available.
Manufacturer-prepared premixed drugs like NEXTERONE premix offer you a ready to use option at a moment's notice that reduces the risk of admixing errors, can offer potential time savings and the opportunity to standardize.
For more information, visit NEXTERONE.com.
Indications and Usage
NEXTERONE (amiodarone HCl) Premixed Injection is indicated for initiation of treatment and prophylaxis of frequently recurring ventricular fibrillation (VF) and hemodynamically unstable ventricular tachycardia (VT) in patients refractory to other therapy.
NEXTERONE also can be used to treat patients with VT/VF for whom oral amiodarone is indicated, but who are unable to take oral medication. During or after treatment with NEXTERONE, patients may be transferred to oral amiodarone therapy.
Use NEXTERONE for acute treatment until the patient's ventricular arrhythmias are stabilized. Most patients will require this therapy for 48 to 96 hours, but NEXTERONE may be safely administered for longer periods if necessary.
Important Risk Information
NEXTERONE (amiodarone HCl) Premixed Injection is contraindicated in patients with:
- Known hypersensitivity to any of the components of NEXTERONE, including iodine
- Cardiogenic shock
- Marked sinus bradycardia
- Second- or third-degree atrio-ventricular (AV) block unless a functioning pacemaker is available
- NEXTERONE should be administered only by physicians who are experienced in the treatment of life-threatening arrhythmias, who are thoroughly familiar with the risks and benefits of amiodarone therapy, and who have access to facilities adequate for monitoring the effectiveness and side effects of treatment.
- Because of the long half-life of amiodarone and its metabolite desethylamiodarone, the potential for adverse reactions or interactions, as well as observed adverse effects, can persist following amiodarone withdrawal.
- Hypotension is the most common adverse reaction seen with intravenous amiodarone. Clinically significant hypotension during infusions was seen most often in the first several hours of treatment and appeared to be related to the rate of infusion. Monitor the initial rate of infusion closely and do not exceed the recommended rate. In some cases, hypotension may be refractory and result in a fatal outcome. Treat hypotension initially by slowing the infusion; additional standard therapy may be needed, including: vasopressors, positive inotropic agents and volume expansion.
- Drug-related bradycardia that was not dose-related occurred while patients were receiving intravenous amiodarone for life-threatening VT/VF. Treat bradycardia by slowing the infusion rate or discontinuing NEXTERONE. Treat patients with a known predisposition to bradycardia or AV block with NEXTERONE in a setting where a temporary pacemaker is available.
- Elevations of blood hepatic enzyme values ALT, AST, GGT are commonly seen in patients with immediately life-threatening VT/VF. Elevated bilirubin levels have been reported in patients administered intravenous amiodarone. In patients with life-threatening arrhythmias, the potential risk of hepatic injury should be weighed against the potential benefit of NEXTERONE therapy. Carefully monitor patients receiving NEXTERONE for evidence of progressive hepatic injury. In such cases, consider reducing the rate of administration or withdrawing NEXTERONE.
- NEXTERONE may cause worsening of existing arrhythmias or precipitate a new arrhythmia sometimes leading to fatal outcomes. Monitor patients for QTc prolongation during infusion with NEXTERONE. Reserve the combination of amiodarone with other antiarrhythmic therapies that prolong the QTc to patients with life-threatening ventricular arrhythmias who are incompletely responsive to a single agent. Amiodarone causes thyroid dysfunction in some patients, which may lead to potentially fatal breakthrough or exacerbated arrhythmia.
- Two percent (2%) of patients were reported to have acute respiratory distress syndrome (ARDS) during clinical studies involving 48 hours of therapy. There have been reports of early development of pulmonary fibrosis (within 1 to 3 months) following initiation of amiodarone treatment. Pulmonary toxicity including pulmonary fibrosis is a well-recognized complication of long-term amiodarone use.
- Cases of optic neuropathy and optic neuritis, usually resulting in visual impairment, have been reported in patients treated with oral or intravenous amiodarone. In some cases, visual impairment has progressed to permanent blindness. Optic neuropathy and neuritis may occur at any time following initiation of therapy. A causal relationship to the drug has not been clearly established. Perform an ophthalmic examination if symptoms of visual impairment appear, such as changes in visual acuity and decreases in peripheral vision. Re-evaluate the necessity of amiodarone therapy if optic neuropathy or neuritis is suspected. Perform regular ophthalmic examination, including fundoscopy and slit-lamp examination, during administration of NEXTERONE.
- Amiodarone inhibits peripheral conversion of thyroxine (T4) to triiodothyronine (T3) and may cause increased T4 levels, decreased T3 levels, and increased levels of inactive reverse T3 (rT3) in clinically euthyroid patients. Amiodarone can cause either hypothyroidism or hyperthyroidism. Evaluate thyroid function prior to treatment and periodically thereafter, particularly in elderly patients, and in any patient with a history of thyroid nodules, goiter, or other thyroid dysfunction. Because of the slow elimination of amiodarone and its metabolites, high plasma iodide levels, altered thyroid function, and abnormal thyroid function tests may persist for several weeks or even months following NEXTERONE withdrawal. Amiodarone causes hyperthyroidism in about 2% of patients. Thyrotoxicosis and arrhythmia with fatal outcome has been reported in the presence of pre-existing hyperthyroidism even following a single intravenous amiodarone dose. Consider the possibility of hyperthyroidism if any new signs of arrhythmia appear. Hypothyroidism has been reported in 2-10% of patients receiving amiodarone. Cases of severe hypothyroidism and myxedema coma, sometimes fatal, have been reported in association with amiodarone therapy. Manage hypothyroidism by reducing the dose of or discontinuing NEXTERONE and considering the need for thyroid hormone supplement.
- Inform the patient that amiodarone can cause fetal harm if NEXTERONE is administered during pregnancy or if the patient becomes pregnant while taking NEXTERONE.
- Anaphylactic/anphylactoid reactions have been reported with intravenous amiodarone including shock (sometimes fatal), cardiac arrest, and the following manifestations: hypotension, tachycardia, hypoxia, cyanosis, rash, flushing, hyperhidrosis and cold sweat. Since NEXTERONE contains dextrose, patients with allergy to corn or corn products are at risk for allergic reaction.
- The most important adverse reactions were hypotension, asystole/cardiac arrest/pulseless electrical activity (PEA), cardiogenic shock, congestive heart failure, bradycardia, liver function test abnormalities, VT, and AV block. The most common adverse reactions leading to discontinuation of intravenous amiodarone therapy were hypotension (1.6%), asystole/cardiac arrest/PEA (1.2%), VT (1.1%), and cardiogenic shock (1%).
- Amiodarone is metabolized to the active metabolite desethylamiodarone (DEA) by the cytochrome P450 (CYP450) enzyme group, specifically CYP3A and CYP2C8. Amiodarone has the potential for interactions with drugs or substances that may be substrates, inhibitors or inducers of CYP450 enzymes. Amiodarone and DEA inhibits p-glycoprotein and certain CYP450 enzymes CYP1A2, CYP2C9, CYP2D6, and CYP3A, increasing exposure to other drugs. The metabolism of quinidine, procainamide, flecainide can be inhibited by amiodarone. In patients receiving digoxin therapy, administration of oral amiodarone results in an increase in serum digoxin concentration. Reduce dose of digoxin by half or discontinue digoxin. If digitalis treatment is continued, monitor serum levels. Limit the dose of simvastatin in patients on amiodarone to 20 mg daily. Limit the daily dose of lovastatin to 40 mg. Lower starting and maintenance doses of other CYP3A4 substrates (e.g., atorvastatin) may be required as amiodarone may increase the plasma concentration of these drugs. Potentiation of warfarin-type (CYP2C9 and CYP3A substrate) anticoagulant response is almost always seen in patients receiving amiodarone and can result in serious or fatal bleeding, therefore reduce the dose of the anticoagulant by one-third to one-half, and monitor INR closely. Monitor cyclosporine drug levels and renal function in patients taking both drugs. Increased steady-state levels of phenytoin during concomitant therapy with amiodarone have been reported. Monitor phenytoin levels in patients taking both drugs.
Please refer to the Package Insert for Full Prescribing Information for NEXTERONE
References
1. Rich DS, Fricker MP, Cohen MR, Levine SR. Guidelines for the Safe Preparation of Sterile Compounds: Results of the ISMP Sterile Preparation Compounding Safety Summit of October 2011. Hospital Pharmacy. 2013;48(4):282-294. doi:10.1310/hpj4804-282.
2. Flynn EA, Pearson RE, Barker K. Observational study of accuracy in compounding i.v. admixtures at five hospitals. Am J Health Syst Pharm. 1997;54(8):904–912
Baxter and Nexterone are trademarks of Baxter International Inc.
(USMP/221/15-0012 10/15) 

Request product info from top Fire EMS Supplies companies
Thank You!