EM Innovations introduces Narcan kit assembly bag
The bag is designed to securely store equipment used when reversing an opioid overdose
---
EM Innovations recently introduced a labeled, tamper-resistant bag for assembling Naloxone kits.
The bag contains "Opioid Overdose Kit" printed in large white text on the exterior. The text is aimed at providing quick identification of the kit in order to reduce search time for first responders administering treatment.
To identify if the kit has been opened and to provide tamper evidence, a security seal or tag can be inserted into the grommet in the upper left corner and through the bag zipper.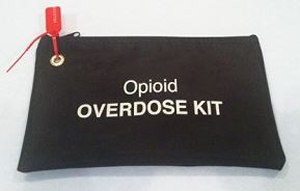 EM Innovations' Opioid Overdose Kit Bag is made of black laminated nylon and measures 11 inches wide, 6 inches high.
It is available through the EM Innovations website for $7.95. 

Request product info from top Fire EMS Supplies companies
Thank You!