Hero Wipes to unveil new bloodborne pathogen antiseptic wipes
The wipes clean and kill 99.9 percent of germs to reduce the risk of infection
---
By FireRescue1 Staff
Hero Wipes announced the launch of new bloodborne pathogen antiseptic wipes for EMS providers at FDIC 2018.
The wipes, according to the company, clean and kill 99.9 percent of germs to reduce the risk of infection. The wipes, which are thick and stretchable, comply with OSHA's Bloodborne Pathogens standard requirements and meet the CDC's guideline for hand hygiene in healthcare settings.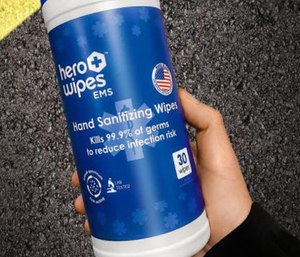 To learn more, visit booth 645.