R12 rugged tablet designed with firefighters' workflow in mind
The R12 tablet debuted a new platform and ergonomic design that can transition from the field to the squad to the station with ease
---
By Loraine Burger
Motion Computing showed off their redefined rugged R12 tablet PC at the IACP conference in Orlando.
The R12 tablet debuted a new platform and ergonomic design that can transition from the field to the squad to the station with ease.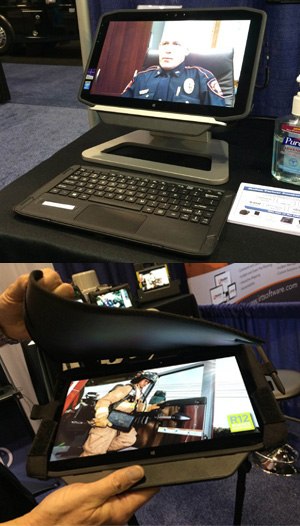 The 3-pound tablet features a 12.5-inch full high definition View Anywhere display, touch screen and Corning Gorilla Glass 3, and includes an 8MP rear and 2MP front cameras.
The R12 comes with a desktop docking station and an ultra-thin wireless magnetic keyboard with a kickstand for an easy transition from tablet to desktop computer. When the keyboard isn't in use, it magnetically attaches to the back of the tablet for low-profile, easy storage and transport.
Motion's EasyPair™ technology allows the user to securely sync the keyboard to the tablet automatically. 
Several optimizations are available for law enforcement use, such as a serial port, a barcode scanner, and a high-frequency reader, using Motion's SlateMate data acquisition module.
A mobile dock is also available for the R12, designed so that it can be docked with the keyboard, the SlateMate module, or a carrying case still attached.  
A swappable battery plus an internal battery makes for easy charging and long run-time.
"A special bonding agent between the screen's layers cuts down on glare so that outside the screen looks like paper," said Motion Computing's Bob Ashenbrenner.  
Ashenbrenner said Motion Computing's mission with the R12 was to make the tablet mobile so that an officer's workflow wouldn't be compromised.
"Portable means you can bring it places but it doesn't mean it's mobile. You can easily take [the R12] out of the vehicle docking station so that at a traffic accident, you're using the mic to take statements, the camera to take photos, the GPS to tag those photos; a mobile workflow exists."
A feature called "Blank-It" can monitor motion when docked in a vehicle so that certain features such as surfing the web are disabled when in motion but viewing maps, for example, are not. The technology is intelligent enough to know when the tablet has turned to face the passenger so that a second officer in the vehicle can use the tablet when the driver is driving.   
The R12 runs Windows 7 or Windows 8.1 on the latest Intel Core Processors. 
For more information visit MotionComputing.com/US

Request product info from top Fire EMS Supplies companies
Thank You!