Disaster relief: Trauma Technologies' Trauma Board 450
New spine board introduced to provide cost-effective support tool
---
By Scott M. Bruner 
FireRescue1 Product Editor
Trauma Technologies, Inc. has introduced the newest addition to their impressive list of spine boards and accessories: the Trauma Board 450. The Trauma Board 450 is a new board designed to be a budget-friendly option designed to provide optimum patient comfort in both large and small scale emergencies.
"The 450 is designed to be the most cost effective board you can use for disaster situations," Ross Smith, of Trauma Technologies, said. "It can be used in any disaster situation where you need to transport bodies away from a scene quickly."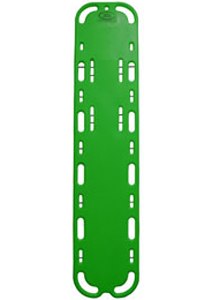 The Trauma Board 450 has quite a number of features, both standard and new from the Trauma Technology catalog. Perhaps most importantly is that it offers an adjustment in head-to-torso position to center the patient on the board. The board has a central concavity, which does not run the entire length of the board, intended to make patient transportation safe and secure. It does this by positioning part of the torso lower than the head. Trauma Tech's intent in the creation of the 450 was to make transport as comfortable as possible for both young and old.
"It has been developed specifically with cavities to reduce pressure on the fifth and sixth cervical region for adult and pediatric patients," Smith said.
The Trauma Board 450 weighs 13.5 pounds and has a carrying capacity of up to 450 pounds. It's designed to be lightweight and flexible. It features raised clearance for its handhold positions. It has a specialized pinned slotted area to accommodate a number of standard straps for smaller patients.
The board is also buoyant in water in order to be useful in getting a patient on board in water rescue situations. Like all of Trauma Tech's boards, it is 100-percent X-ray translucent.
In order for EMTs to keep track of their boards, the 450 is offered in a number of colors and Trauma Tech offers custom stenciling to brand the boards to a rescue unit.
Trauma Technologies, Inc is an emergency medical products design and marketing company. For more information on how Trauma Technologies spine boards, pads and accessories, visit www.TraumaTechInc.com.